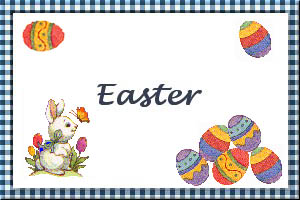 Chocolate Bunny Bread
Submitted by: KatjaGirl

3 1/4 to 3 3/4 cups all-purpose flour
2/3 cup sugar
1/3 cup unsweetened cocoa powder
2 packages (1/2 ounce or 4 1/2 teaspoon) RapidRise Yeast
3/4 teaspoon salt
2/3 cup milk
1/4 cup (1/2 stick) butter or margarine, cut up
1/4 cup water
1 egg
1 tablespoon Vanilla extract
1/3 cup milk chocolate or peanut butter morsels
Decoration (optional, see below)
In large bowl, combine 1 cup flour, sugar, cocoa powder, undissolved yeast and salt. Heat milk, butter and water until very warm (120 to 130°F). Gradually add to dry ingredients. Beat 2 minutes at medium speed of electric mixer, scraping bowl occasionally. Add egg, Vanilla and 1/2 cup flour; beat 2 minutes at high speed, scraping bowl occasionally. With spoon, stir in enough remaining flour to make soft dough. Knead on lightly floured surface until smooth and elastic, about 4 to 6 minutes. Cover and let rest 10 minutes. Divide dough in half. For body, knead chocolate morsels into 1 half; form into ball. Place on bottom end of greased large baking sheet. Flatten to make 5-inch round. For head, remove 1/3 of remaining half; form into ball. Place on pan above body. Flatten slightly, pinching to attach. For nose, pinch off 1/2-inch ball from remaining dough. Place on center of head. Divide remaining dough into 4 equal pieces. Roll each to form 6-inch rope. For arms, arrange 2 ropes across body. Attach by tucking one end of each under body. Shape remaining ropes into ears. Arrange above head. Attach by tucking one end of each under head. Cover and let rise in warm, draft-free place until doubled in size, about 30 to 45 minutes. Bake at 350°F for 45 to 50 minutes or until done, covering with aluminum foil after 20 minutes to prevent excess browning. Remove from pan; cool on wire rack. Decorate as desired.
Decorations (optional)
jelly beans
decorating icing
carrots

Easter Kulick with Paska
Submitted by: Molly
2 packages active dry yeast
1/2 cup warm water
1/2 cup warm milk
1/2 cup sugar
1 teaspoon salt (optional)
2 eggs
1/2 cup shortening
6 cups flour
1/2 cup raisins
1/4 cup blanched almonds, chopped
1/2 teaspoon Vanilla
Frosting and Paska (see below)
Dissolve yeast in warm water. Stir in milk, sugar, eggs, shortening, 2 cups flour, raisins, almonds and Vanilla. Beat until smooth with electric mixer. Mix in enough flour remaining flour to make dough easy to handle. Turn out on a lightly floured board and knead adding remaining flour until smooth and elestic, about 5 minutes. Cover with saran wrap and let rest 20 minutes. Divide in half and let rise about 1 hour until double. Place each half in a well greased 1-lb coffee can. Let rise to top of cans (about 40 minutes). Preheat oven to 375°F. Bake 40-45 minutes or until brown. Remove and drizzle with Frosting mixture while still warm and serve with Paska.
Frosting:
1/2 cup powdered sugar
1 1/2 teaspoons warm water
1/2 teaspoon grated lemon peel
1/2 teaspoon lemon juice
Mix all ingredients together.
Paska:
1/4 lb sweet butter, unsalted
1/2 lb powdered sugar
4 egg yolks
3 lb Farmer cheese
1/4 lb raisins
1/2 lb nuts, chopped
1 teaspoon Vanilla extract
1/2 pt Cream
2 cups Cherries, chopped
Mix the butter and sugar together until smooth. Add remaining ingredients, mixing well. Put in a cheese cloth to drain out liquid (about 3 hours), using a weight. Remove from cloth and refrigerate.
Note: Makes 1 servings.

Easter Crown Bread
Submitted by: Molly
3 to 3 1/2 cups all-purpose flour (divided use)
1/4 cup granulated sugar
1 package active dry yeast
1 teaspoon salt
2/3 cup warm milk
2 tablespoons softened butter or margarine
2 eggs
1/2 cup chopped mixed candied fruit
1/4 cup chopped blanched almonds
1/2 teaspoon anise seed
5 uncooked eggs
non-toxic egg coloring
vegetable oil
In a large mixing bowl, combine 1 cup flour, sugar, yeast, and salt. Add the milk and butter and beat with an electric mixer for 2 minutes on medium. Add the eggs and 1/2 cup flour and beat on high for 2 minutes.Stir in the fruit, nuts, and anise seed, mixing well. Stir in enough remaining flour to form a soft dough. Turn out onto a lightly floured surface and knead until smooth and elastic (about 6 to 8 minutes). Place in a greased bowl, turning once to grease the top. Cover with a damp cloth or plastic wrap and let rise in a warm place until doubled in size (about 1 hour). About 30 minutes before dough has finished rising, color the 5 eggs (leave them uncooked) with non-toxic dyes. When dry, lightly rub them with vegetable oil.Punch down the risen dough. Divide in half. Roll each half into a 24-inch rope. On a greased baking sheet, loosely twist the two ropes together. Form into a ring and pinch the ends together. Gently split the ropes and tuck the 5 colored uncooked eggs into the openings. Cover and let rise again until doubled (about 30 minutes). Bake in a 350°F oven for 30 to 35 minutes or until a golden brown. Remove from the baking sheet and cool on a wire rack. Makes 15 servings.

To submit your favorite recipes to be included in the Garden of Friendship Recipe Book, please email them to Barbiel
Background graphics made especially for the Recipes Committee of the Garden of Friendship by Valatine