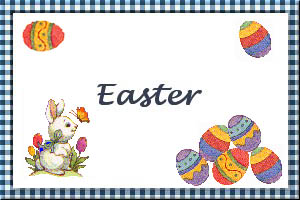 Greek Easter Cookies
Submitted by: Barbiel

2 1/4 cups flour

1 1/4 teaspoon baking powder
1/4 teaspoon salt

1/2 cup butter, softened

1 cuo powdered sugar

1 egg

2 tablespoons milk

1 teaspoon vanilla

1 egg yolk and 1 tablespoon milk, beaten together

3 tablespoons sesame seeds

Preheat oven to 375°F. In a medium bowl combine the flour, baking powder, salt and set aside. In a large bowl combine butter and sugar, beating until fluffy. Add egg, milk, vanilla and beat well after each addition. Add flour mixture 1 cup at a time blending will after each addition. Roll 1 teaspoon of dough on a lightly floured surface into a 6 inch rope, fold in half and twist 2 or 3 times, pinch ends together. Place 1 inch apart on 3 greased cookie sheets. Brush with egg/milk mixture. Sprinkle with sesame seeds. Bake 10-13 minutes or until golden brown in color. Cool on rack. Store in an airtight container at room temperature.

Chocolate Cream Easter Eggs
Submitted by: SueW
1 package white frosting mix
5 tablespoons soft butter
3 tablespoons flour
2 tablespoons hot water
1/2 cup chopped candied fruit
or 1/2 cup chopped nuts (optional)
1 package chocolate fudge frosting mix
Combine white frosting mix with soft butter, flour, water and if desired, chopped fruit or nuts. Knead 20-30 times on board lightly dusted with confectioners' sugar. Divide and shape into 8 eggs; chill. Coat eggs with Chocolate Fudge Frosting mix by dipping egg into frosting, ending with a swirl on top. Keep frosting mix over hot water while dipping the eggs. Decorate with white frosting mix tinted with pastel colors.

Black Chocolate Truffles
Submitted by: SueW
1 cup heavy cream
9 ounces bittersweet chocolate, chopped into pieces
4 tablespoons unsalted butter, cut into bits
1 cup sifted confectioners' sugar
1 cup chopped pistachios
1 cup sifted cocoa powder
1 cup chopped almonds

In a saucepan set over moderate heat scald the cream. Add the chocolate over moderately low heat, a little at a time, stirring, until melted and smooth. Remove from the heat and stir in the butter and confectioners' sugar, a little at a time, until smooth. Transfer to a bowl and chill, covered, for 1 hour, or until firm. Have ready the coatings on separate plates. Form the chocolate into 1-inch balls and roll them in the coating of your choice, placing them on a tray in one layer. Chill, covered, until ready to serve. Servings: about 2 dozen.
Note: Will keep for up to a week in the refrigerator or in the freezer for 2 months. Store in air-tight containers.

To submit your favorite recipes to be included in the Garden of Friendship Recipe Book, please email them to Barbiel
Background graphics made especially for the Recipes Committee of the Garden of Friendship by Valatine