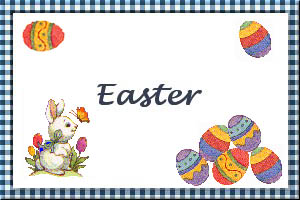 Fruit and Nut Easter Eggs
Submitted by: Wolfmama
2 1/4 cups sugar
1 cup light corn syrup
3/4 cup hot water
1/2 pound marshmallow creme
1/2 cup shortening, melted
1/4 cup confectioners' sugar
2 cups candied fruit (cherries and pineapple)
some nuts
dipping chocolate
In a saucepan, cook sugar, syrup, and water to 265°F. Add marshmallow creme and beat until almost firm. Add melted shortening, confectioners' sugar, candied fruit and nuts. Mix well, shape eggs by hand and dip in the chocolate. Makes 10 eggs.
Note: The eggs will keep 6 to 8 months and can be made long before needed. Their flavor improves as they ripen.

Chocolate Easter Eggs
Submitted by: Wolfmama
1 cup soft butter
2 teaspoons salt
4 teaspoons vanilla
1 can condensed milk (Eagle Brand)
10 cups icing sugar
1 teaspoons yellow food coloring
1 lb semi-sweet chocolate
Beat butter, salt and vanilla until fluffy. Add milk, beat in sugar. Blend until stiff. Dust with brown sugar. Knead til smooth. Set aside more then 2/3 of mixture. To the remaining mixture add yellow food coloring. Blend in well. Divde yellow and white into 16 or 24 pieces. Shape yellow into ball, mold white around yellow to form an egg shape. Dry at room temperature on paper towels for 24 hours. Melt chocolate in double boiler or in microwave until smooth. Dip eggs in chocolate (parafin wax may be added and melted with chocolate to prevent chocolate from melting in your hands). Once dipped cool at room temperature. Refrigerate after cool. When sliced these eggs will have a white cream filling with a yellow filling that appears to be the yolk.
Note: They look nice sitting in an Easter basket!!

Low Fat Hot Cross Buns
Submitted by: Jana
14 g (0.5 oz) dried yeast or 30 g (1 oz) compressed yeast
1/2 cup castor sugar
1 teaspoon cinnamon
1 1/2 cups skim milk, warmed
4 cups plain flour
1 teaspoon salt
1 teaspoon allspice
60 g (2.1 oz) praised reduced-fat margarine
1 egg beaten
1 cup sultanas
Paste for Crosses:
1/4 cup plain flour
1/4 cup water

Glaze:

2 tablespoon hot water
2 tablespoon castor sugar 1 teaspoon powdered gelatine
1/2 teaspoon mixed spiced
In a bowl, combine yeast with 1 tablespoon of the sugar, and the warmed skin milk. Stir until the yeast and sugar are totally dissolved. Cover and stand in a warm place for 10 minutes, until bubbly. In another bowl, combine remaining sugar with flour, salt and spices. Massage in margarine, then include the yeast and milk mixture, egg and sultanas. Mix well, cover the bowl, and let mixture rise for 30 minutes in a warm place. Transfer dough to a floured surface and knead until smooth. Divide the dough into 16 pieces and knead pieces into round shapes. Place buns into a well greased, 25 cm/10 inch - square cake tin. Let rise in a warm place for 10 mins. Makes 16 buns.
Paste for Crosses: Mix the flour and water. Transfer into a piping bag with a small plain hole. Bake in the oven for 15-20 mins at 410°F (210°C).
Glaze: Mix all the ingredients in a small pan. Cook over a low heat until dissolved, or place in the microwave for 30 secs on high-stir well, until the sugar has dissolved while buns are still hot, brush with glaze.

To submit your favorite recipes to be included in the Garden of Friendship Recipe Book, please email them to Barbiel
Background graphics made especially for the Recipes Committee of the Garden of Friendship by Valatine