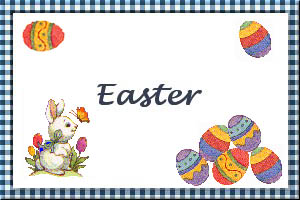 Peanut Butter Eggs
Submitted by: Jana
1 lb. confectioners sugar
3/4 cup melted butter or oleo
pinch of salt
1/2 teaspoon vanilla
2 tablespoons cocoa
5 tablespoons peanut butter (regular or crunchy)
Roll into egg shape and dip in Dip recipe.
Dip:
5 packages semi-sweet chocolate
3 squares bitter chocolate
Melt in double boiler and dip immediately. Let stand after dipping, to harden.

Easter Rolls
Submitted by: Wolfmama
2 packages dry yeast with 1/2 cup warm water
2/3 cup margarine
2/3 cup sugar
1 1/2 cup hot water
2 beaten eggs
1 teaspoon salt
6 cups flour
Mix yeast with 1/2 cup water. Cream together margarine and sugar. Add yeast to water, eggs, salt, margarine and sugar. Add flour until goopy. Cover with towel 2 hours. Punch once in middle. Cover with plastic wrap. Refrigerate overnight. Shape into rolls. Let rise 30 minutes in greased muffin pans. Bake at 375°F for 15-20 minutes.

Green Coconut Nest
Submitted by: CajunSue
1 pound green chocolate coating
1 7 oz. package flaked or shredded coconut
In the top of a double boiler, melt coating over hot, not boiling, water. Add coconut and mix together well. Add very small amounts of water to coconut mixture until it thickens enough to hold shapes. Form into small nests by making mounds and then hollowing them out with the bowl of a spoon. Fill nests with jelly beans or molded chocolates. Makes 8 nests.

To submit your favorite recipes to be included in the Garden of Friendship Recipe Book, please email them to Barbiel
Background graphics made especially for the Recipes Committee of the Garden of Friendship by Valatine