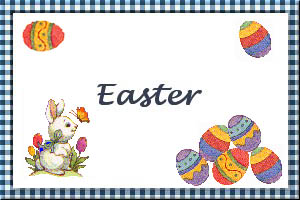 Easter Eggs
Submitted by: JoyC
1/4 lb butter
8 oz cream cheese
1/2 teaspoon salt
1-1/2 teaspoon vanilla
1-1/2 cups peanut butter or coconut
4 cups confectioner's sugar
Soften and mix together butter and cream cheese. Add: salt, vanilla, peanut butter or coconut and confectioners' sugar. Place in refrigerator to chill. Form into egg or ball shape. Dip in melted chocolate coating.

Hot Cross Buns
Submitted by: JoyC
1/4 cup milk
1/3 cup sugar
3/4 teaspoon salt
1/2 cup shortening
2 packages active dry yeast
1/2 cup warm water (about 110°F)
3 eggs
4 cups sifted flour
1/2 teaspoon cinnamon
3/4 cup currants
1 egg white
1 teaspoon cold water
Scald milk in a small saucepan, add salt sugar and shortening; cool to lukewarm.Sprinkle yeast on top of the warm water; stir to dissolve. Add eggs, yeast mixture, 1 cup flour and cinnamon to milk mixture; beat with electric mixer at medium speed about 2 minutes, scraping the bowl occasionally. Stir in currants and enough remaining flour, a little at a time, to make a soft dough that is easy to handle. Beat well. Place in lightly greased bowl and turn dough over to grease top as well. Cover and let rise until just about doubled. This will take about 1 1/2 hours. Punch down the dough. Turn onto lightly floured board.Roll or pat to a 1/2 inch thickness. Cut in rounds with a 2 1/2 inch biscuit cutter or bottom of a glass. Pat the shapes to a bun like shape. Place about 1 1/2 inches apart on greased baking sheets. Allow to rise until almost doubled for about 1 hour.With a very sharp knife (serrated works well) cut a cross into the surface of each bun. Brush tops with unbeaten egg white mixed with cold water. Bake in a 375°F oven for 15 minutes or until golden brown. Cool on racks for about 5 minutes. With a tip of a butter knife or a small spoon, fill in crosses with Frosting. Makes about 18 buns.
Frosting:
1 1/2 cups powdered sugar
2 tablespoons margarine or butter, softened
1-2 tablespoon milk
1/2 teaspoon vanilla
Combine all ingredients and mix well until smooth.

Cocoa-Coconut Oatmeal Nests
Submitted by: Barbiel
3/4 cup butter, softened
3/4 cup granulated sugar
3/4 cup packed light brown sugar
2 eggs
1 teaspoon vanilla extract
2 cups all-purpose flour
1/4 cup cocoa
1 teaspoon baking soda
1/2 teaspoon salt
1 cup sweetened coconut flakes
1 1/2 cups rolled or quick cooking oats
candy-coated milk chocolate eggs (optional)
Heat oven to 350°F. Beat butter, granulated sugar and brown sugar in large bowl until well blended; beat in eggs and vanilla. Stir together flour, cocoa, baking soda and salt; add to butter mixture, beating until blended. Stir in coconut and oats; drop by heaping teaspoons onto ungreased cookie sheet. Bake 8 to 10 minutes or until set. Cool slightly; remove from cookie sheet to wire rack. Press chocolate egg onto center of each cookie, if desired. Cool completely. Makes 4 dozen cookies.

To submit your favorite recipes to be included in the Garden of Friendship Recipe Book, please email them to Barbiel
Background graphics made especially for the Recipes Committee of the Garden of Friendship by Valatine