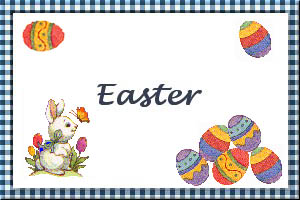 Coconut Cream Eggs
Submitted by: Barbiel, sent by SilkeyKay
6 tablespoons butter, melted
1/3 cup light corn syrup
2 teaspoons vanilla extract
1/2 teaspoon salt
3 1/2 cups powdered sugar
3 1/4 cups (10-oz. pkg.)
MOUNDS Sweetened Coconut Flakes
additional powdered sugar
favorite chocolate coating
In large bowl, stir together butter, corn syrup, vanilla and salt. Gradually add powdered sugar and coconut, beating until blended. Sprinkle about 1 tablespoon additional powdered sugar on flat surface. Spoon coconut mixture onto prepared surface; knead about 5 minutes. Using 1-1/2 teaspoons mixture for each candy, shape into egg shape. Place on wax paper-covered tray. Refrigerate 1 to 2 hours before dipping into chocolate coating. Place coated eggs on wax paper-covered tray. Store in cool, dry place. Makes about 40 candies.
Variation: Peanut Butter Eggs: Omit coconut flakes. Add 1-1/2 cups REESE'S Creamy Peanut Butter. Proceed as directed above.

Semlor
(Swedish Fat Tuesday Buns)
Submitted by: Ugglemor

100 g butter
100 ml milk
1/2 teaspoon salt of hartshorn
50 g yeast
1 dl of sugar
1 pinch of salt
1 kg wheat-flour
1 egg
Filling:
1/3 dl of ground almonds per bun
1/3 dl of sugar per bun
some milk
Topping:
Whipped cream - as much as desired
Melt the butter and add the milk. Pour into a bowl. Add yeast and mix. Add sugar and salt, and then the flour, a little at the time. Let the dough rise for an hour (to doubble size). Make the buns. Let them grow for half an hour on a buttered baking tin. Paint with some egg.Bake in oven at 250°C (450-475°F) for 10 min.
Before Eating:
Let the buns cool and then cut of a small lid on top (triangular or circular, depending on taste). Make the lid just big enough for next step. Take out the interior of the bun with a spoon. Make a hole as you dare. Mix the ground almond with the dough you took out and with the sugar. Add milk until it looks like some kind of porrige. Put this back into the buns. Whip the cream and put on top, and to crown the cake - the lid. Put some confectioner's sugar on top like snow, if you like it that way.
Note: You eat the Semla in different ways. Many eat them as an usual bun with coffee. But you can put the Semla in a soup plate and eat them with hot milk as a snack or dessert. When you eat the Semla with hot milk you call it hetvägg. The Semla gets a bit soggy this way.

Bunny Cookies
Submitted by: Molly
3 cups all purpose flour
2 teaspoons baking soda
1 1/2 teaspoons ground ginger
1/2 teaspoon ground cinnamon
1/2 teaspoon ground cloves
1/4 teaspoon salt
1/2 cup solid vegetable shortening
1/2 cup sugar
1 egg
1/2 cup molasses
1 1/2 teaspoons cider vinegar
Decorator Icing
Sift together flour, baking soda, ginger, cinnamon, cloves and salt onto waxed paper. Beat together shortening, sugar and egg in large bowl with electric mixer until fluffy, for about 3 minutes. Beat in the molasses and cider vinegar. Stir in flour mixture until blended and smooth. Gather dough into ball; wrap and chill for several hours. Preheat oven to 375°F. Divide dough in half. Roll out half of the dough with lightly floured surface to generous 1/8-inch thickness. Keep remainder of dough refrigerated while working with first half. To use a bunny pattern, draw a pattern onto a piece of cardboard. Make sure ears are attached to the head. Cut out pattern. Place pattern on dough and trace with a toothpick. Cut out cookies. Place 1 inch apart on lightly greased baking sheets. Reroll scraps, using up all the dough. Repeat with remaining dough. Bake in preheated 375°F oven for 5-7 minutes or until firm. Transfer to wire rack to cool completely. Step 6 If you wish to decorate cookies, prepare Decorator Icing, tinting portions if you wish. Decorate cookies as desired. Let cookies stand until icing is firm.
Decorator Icing:
Prepare one recipe Royal Icing, using packaged meringue powder and following the directions on the package. Dried meringue powder is best for uncooked frostings due to the increased concern about the presence of salmonella bacteria in raw eggs. Meringue powder is available in stores where decorating and baking supplies are sold.
Note: Use your favorite bunny cookie cutter to make these charming cookies, or use the pattern you cut out of cardboard. Store in airtight container between sheets of waxed paper for up to 2 weeks.

To submit your favorite recipes to be included in the Garden of Friendship Recipe Book, please email them to Barbiel
Background graphics made especially for the Recipes Committee of the Garden of Friendship by Valatine