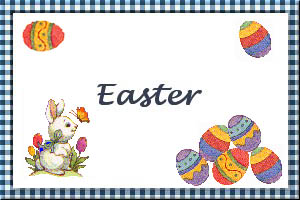 Cream Cheese Cookies
Submitted by: Barbiel
1 cup Crisco shortening
6 oz. Cream cheese, softened
1 cup sugar
1 teaspoon Vanilla
2 egg yolks
2 cups flour, sifted
1/2 teaspoon salt
yellow or orange food coloring (optional)
Mix Crisco shortening and Cream cheese (if desired, add some drops of yellow or orange food coloring). Add sugar, Vanilla and unbeaten egg yolks. Beat until light. Add flour sifted with salt. Mix well. Drop by teaspoonful on a greased cookie sheet. Bake in 350°F oven for 10 to 12 minutes. Makes approximately 75 cookies.

Easter Bunny Centerpiece
Submitted by: Merribuck
2 packages sugar cookie dough
2 teaspoons cherry extract
1 cup all-purpose flour
decorating icings
8 short lollipop sticks
bunny cookie cutters
10 by 20-inch pieces thin foam
large tray or basket
10 by 20-inch piece wheat grass
colored easter eggs
Preheat the oven to 350°F. In a large bowl, mix the sugar cookie dough with the cherry extract and 1/2 to 1 cup flour to make a very firm cookie dough. Roll out the dough to 1/4 to 1/2-inch thick. It has to be very thick for the lollipop sticks to stay in once baked. Cut out bunny shapes and insert lollipop sticks. You should get about 8 cookies, depending on the size of your cutter. Bake according to package directions (they will probably need a little longer as they will be MUCH thicker). Cool completely. Decorate with icings. Let the icing dry overnight. Place the foam in your large tray or basket. Top with the wheat grass. Insert the bunny cookies into the grass and foam. Scatter some easter eggs around the grass.

Honey Drop Biscuits
Submitted by: Merribuck
1 1/2 cups all-purpose flour
1 teaspoon baking powder
1/8 teaspoon baking soda
1/8 teaspoon salt
3 tablespoons cold butter
1/4 cup honey
1/4 cup half-and-half
Preheat the oven to 350°F. Sift flour, baking powder, baking soda, and salt in a large bowl. Place the dry ingredients and butter in a food processor. Pulse until the butter and flour looks like coarse cornmeal. Do not over process. Turn mixture out into a bowl and add honey and half-and-half. Mix until a dough forms (see Note). Once dough is formed, with a tablespoon, spoon the dough out on a cookie sheet. Bake for 20 to 25 minutes, or until golden brown.
Note: Don't over work your dough. It will make the biscuits tough.


To submit your favorite recipes to be included in the Garden of Friendship Recipe Book, please email them to Barbiel
Background graphics made especially for the Recipes Committee of the Garden of Friendship by Valatine