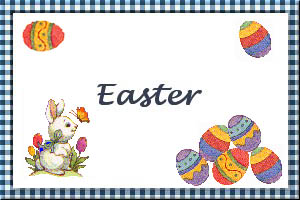 Alabama Cola Ham
Submitted by: Golden Dragon
1 cooked 10 pound ham
(get Hillshire Farm Shank Half, it has less fat)
1 liter cola
whole cloves
1 cup dark brown sugar
pepper and salt to taste
Heat oven to 325°F. Put ham flat side down on a rack in a shallow roasting pan. Pour cola, salt and pepper into pan saving a half cup. Bake ham uncovered for about 4 hours. Heat thermometer should read 140°F. Bast every 20 minutes. Pull ham out. Let stand for 10 minutes. Increase heat to 375°F . Cut fat all but a thin layer (that's why the Hillshire Ham little to no fat to cut off). Put cloves in an inch apart. (I just stab the ham about 10 or 15 times and stick the cloves in the holes). Mix brown sugar and half cup of cola. Pour over ham, put back for 45 minutes and bast every 15 minutes. If ham looks to dark cover. Let it stand 15 minutes before serving. Serves lots!

Easter Egg Shrimp Casserole
Submitted by: Barbiel
1/2 cube better
1/4 cup flour
2 cups milk
1 teaspoon salt
1/2 tablespoon Worcestershire sauce
dash of pepper
6 left over Easter eggs, sliced
1 lb cooked shrimp
8 ounces sharp Cheddar cheese
paprika to garnish
Make a cream sauce by melting butter and flour together and adding milk, salt, pepper and Worcestershire sauce. Add the cheese and stir until melted. Alternate layers of the hard cooked eggs and shrimp and add cheese sauce in a 1 1/2 quart casserole. Bake 20-25 minutes at 350°F. Garnish with paprika. Serves 6

Easter Greek Lamb
Submitted by: Barbiel
5 lb leg of lamb, boneless
1 cup olive oil
1/2 cup red wine vinegar
2 tablespoons garlic, minced
1/2 cup parsley, chopped
1/2 cup dill, chopped
4 tablespoons oregano, rubbed
black pepper
Whisk together the oil, vinegar, garlic, parsley, dill, oregano, and pepper. Butterfly the lamb and pepper generously on both sides. Cut some slits in the meat. Marinate the lamb for 2 to 24 hours. Drain marinade from lamb and put lamb in 425°F oven in shallow roasting pan for about 45 minutes. You want an internal temperature of 135°F. Let lamb rest before serving. Makes 8 servings.

To submit your favorite recipes to be included in the Garden of Friendship Recipe Book, please email them to Barbiel
Background graphics made especially for the Recipes Committee of the Garden of Friendship by Valatine