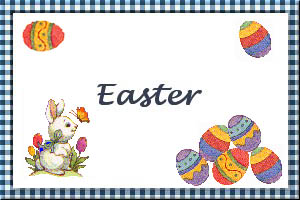 Roast Lamb with Red Wine Gravy
Submitted by: Barbiel
1 leg lamb (approx 2 kg)
salt and pepper to taste
Gravy:
2 tablespoons pan juices
1 tablespoon plain flour
150 ml red wine
300 ml stock or water
1 tablespoon red currant jelly
grated rind of 1 orange
Place the lamb in a roasting tin and season with salt and pepper. Roast for 20 minutes per 450 g plus 20 minutes oven 180°C (350°F). Keep the lamb warm while you make the gravy. Pour the pan juices into a saucepan and stir in the flour. Cook over a low heat for 2 minutes until thickened. Gradually add the wine and stock, or water, stirring all the time and bring to the boil. Simmer for 10 minutes, then add the red currant jelly and rind. Simmer for another 2 minutes and adjust seasoning to taste before serving with the lamb. Serve with boiled new potatoes, garden peas and beer glazed carrots. Serves 4-6.

Easter Ham and Cheese Breakfast Casserole
Submitted by: Wolfmama
4 cups French bread, cubed
3 cups ham, diced
1/2 pound grated American cheese
6 eggs
4 teaspoons flour
1 1/2 teaspoons dry mustard
dash of Tabasco sauce
4 cups milk
4 tablespoons melted oleo
salt to taste
Layer bread, ham and cheese in a 9"x13" greased baking pan. Pour over the remaining ingredients which have been beaten together in order given. Refrigerate in covered pan. Bake 1 hour at 300°F. Serves 4-6.

Easter Honey Cola Ham
Submitted by: Wolfmama
12 to 13 pound pre-cooked ham
2 3 liters Coke Cola soda
some cloves (whole)
clove honey
(or wild flower honey or corn syrup)
some fresh pepper to taste
Prepare ham by placing in a deep steaming pan with rack. Pour soda and fresh pepper into pan and bring liquid up to middle sides of ham. Steam (simmer) slowly for 2 1/2 hours. Ham will look very caramalized. Place ham on cooling rack. Cool for 10 minutes. Brush with honey. Score ham and pierce ham with whole cloves. Brush again with honey and bake at 350°F for 30 minutes or until golden. Serves 10-12.

To submit your favorite recipes to be included in the Garden of Friendship Recipe Book, please email them to Barbiel
Background graphics made especially for the Recipes Committee of the Garden of Friendship by Valatine