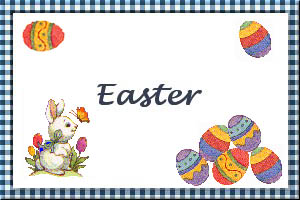 Easter Ham and Rice Casserole
Submitted by: LisaW
1 box Uncle Ben's wild rice mix
1 (10 oz.) box chopped broccoli, cooked and drained
1 cup chopped ham
1 cup sharp Cheddar cheese, cubed
1 can mushrooms, drained
1 can cream of celery soup
1 cup mayonnaise
2 teaspoons prepared mustard
Cook rice according to directions. Place rice on bottom of 9 x 13 pan. Layer on top; broccoli, cheese, ham and mushrooms. Combine remaining ingredients and put on top. Sprinkle with Parmesan cheese and bake at 350°F for 45 minutes. Serves 4 or 6.

Fruit-Stuffed Easter Ham with Rum and Fried Apples
Submitted by: Lady Seanna
Recipe Courtesy: Ashbell McElveen
225 g golden raisons
1 Granny Smith apple, finely chopped
200 g dark brown sugar
2 tablespoons honey
1/2 teaspoonground allspice or ground cloves
3 tablespoons Port wine or Sherry
1 honey-cured ham or fresh ham (6-7kg)
335 ml apple juice
In a bowl mix together the raisins, apple, brown sugar, honey, Sherry and allspice. Set it aside for 30 minutes before stuffing the ham. Preheat the oven to 150°C/gas 2. Gently make deep cuts into the meat and add a little of the fruit mixture. Repeat the process, using as much of the stuffing as possible. Place the ham in a roasting tray and pour the apple juice over it. Bake the ham for 1 hour, then reduce the heat to 110°C/gas a quarter and bake the ham for a further 30 minutes, basting the ham with the apple juice every 15 minutes. If needed use more apple juice. If using fresh ham, bake the ham uncovered for 1 hour 30 minutes at 150°C/gas 2, then for a further hour at 110°C/gas a quarter, or until the juices run clear. Meanwhile, cook the apple and Rum Sauce (below). Heat the butter in a heavy-based frying pan until the butter turns brown. Add in the sliced apples and brown sugar and fry over high heat until the apples are just tender. Remove the apples with a slotted spoon and keep warm. Add the Rum and skimmed roasting juices to the frying pan. Bring to the pan. Reduce the heat and simmer for 5 minutes. Remove the baked ham from the oven, cover and rest for 15 minutes. Transfer to a warm serving plate and slice. Ladle the warm Rum Sauce over the pork and serve with the apple slices. Servings: 4
Fried Apples and Rum Sauce:
1/2 tablespoon unsalted butter
2 Granny Smith apples, cored and thinly sliced
150 g dark brown sugar
225 ml dark Rum
225 ml skimmed ham roasting juices or apple juice

Lemon and Thyme Lamb Chops
Submitted by: Lady Lynda
5 lamb chops
2 tablespoons Olive oil
1 tablespoon lemon juice
3/4 teaspoon chopped fresh thyme
salt to taste
pepper to taste
Stir together Olive oil, lemon juice, thyme in a small bowl. Season with salt and pepper to taste. Brush over chops, and marinate in the refrigerator for 1 hour. Preheat grill for high heat. Lightly oil grate, and place lamb chops on grill. Cook for 10 minutes, turning once. Makes 2 servings.
Note: Serve with a mint sauce and warmed flatbread.

To submit your favorite recipes to be included in the Garden of Friendship Recipe Book, please email them to Barbiel
Background graphics made especially for the Recipes Committee of the Garden of Friendship by Valatine