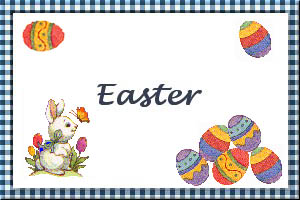 Chicken and Stuffing Bake
Submitted by: SueW
1/4 cup margarine
1 cup chopped celery
1 cup chopped onions
1/4 cup flour
1 can chicken broth
1 cup water
7 ounce package of herb-seasoned cubed stuffing
(or croutons)
2 cups cooked cubed chicken
1 cup shredded cheese
In saucepan melt margarine, add celery, onions and cook until tender. Add flour and cook 2 minutes, add broth and water and cook until mixture thickens. Add stuffing and chicken and toss. Spoon into greesed baking dish and bake at 350°F for 30 minutes. Add cheese on top and bake another 5 minutes or until cheese is melted. Serves 4-6.

Meatballs
Submitted by: Ugglemor
1/2 cup fine dry bread crumbs
1/2 cup light cream
1/2 cup water
7 oz ground beef
7 oz ground lean pork
1 1/2 teaspoon salt
1/2 teaspoon ground allspice
1 tablespoon grated yellow onion
1 egg, beaten
3 tablespoons margarine or butter
Mix the bread crumbs, cream and water; set aside for 5 minutes. Work together the beef, pork, salt, allspice and onion. Gradually add the bread crumbs, then the egg. Blend well and fry a sample to test the seasoning. Shape into balls. Make large meatballs to be served for dinner or small meatballs for the smorgasbord. Heat part of the margarine or butter in a skillet. When the foam subsides, add 10 to 15 meatballs. Cook over moderate heat until the meatballs are beautifully brown and cooked through. Transfer to a serving dish and keep hot while cooking the remaining meatballs. Serve with boiled potatoes, lingonberry preserve and a tossed salad.
Note from Ugglemor: This is a swedish recipe and traditional to Swedish Smorgasbord.

Ham and Cheese Baked Frittata
Submitted by: SueW
6 tablespoons Crisco oil
4 cups frozen shredded potatoes
(or 4 Idaho or Russet potatoes, peeled and shredded)
1 1/2 teaspoons salt, divided
1/2 teaspoon freshly ground black pepper
1 pound baked ham, cut into 1/2-inch cubes
12 eggs
6 tablespoons milk
1/2 teaspoon Italian seasoning
2 cups (8 ounces) shredded Cheddar, Monterey Jack
(or Swiss cheese)
1 1/2 cups chunky salsa, heated
Heat oven to 350ºF. Heat Crisco oil in 10- or 12-inch skillet on medium heat. Add potatoes. Sprinkle with 1/2 teaspoon salt and pepper. Cook 8 minutes or until almost brown. Add ham. Cook 2 to 3 minutes more. Turn occasionally with spatula. Blend eggs with milk, Italian seasoning, and remaining 1 teaspoon salt while potatoes are cooking. Place the potatoes into a 9" x 13" casserole dish sprayed with non-stick Cooking Spray. Stir the eggs into the potatoes. Bake covered at 350ºF for 15 minutes. Remove from oven. Sprinkle with cheese and return to the oven.Bake 15 minutes more or until cheese is melted and eggs are set. Turn oven to broil and continue to cook, about 2 minutes, or until top is nicely browned. Allow to cool 10 minutes before cutting into 8 squares. Serve topped with heated salsa.

To submit your favorite recipes to be included in the Garden of Friendship Recipe Book, please email them to Barbiel
Background graphics made especially for the Recipes Committee of the Garden of Friendship by Valatine