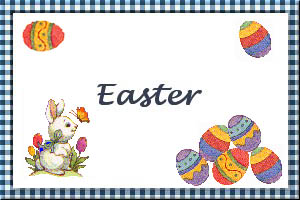 Easter Egg Colouring
Submitted by: KatjaGirl
Dyeing Techniques
The cold-dipping method creates subtle, translucent shades, but may result in uneven coloring unless the eggs are rotated vigilantly. For the cold-dipping, the eggs and ingredients are boiled separately. After the dye has cooled and been strained, immerse the eggs for 5 to 10 minutes and pat dry with a paper towel.
The boiling technique involves boiling the eggs in the dye; as the egg heats and rolls in the boiling water, a more uniform and intense color is produced. To dye 8 eggs with the boiling technique, use 2 tablespoons of vinegar per quart of water. Place eggs in pot and cover with 1 inch of water. Add natural dye ingredients, bring to a rolling boil, and reduce to simmer for 20 to 30 minutes. Rinse with lukewarm water.
Note: Natural dyes create beautiful effects, but may not be suitable for eating. Use for decoration only.
Dye Recipes
Sienna Tones
4 packed cups of red onion skins. Boil for 30 minutes to an hour. Adjust the shade of red from light to rich crimson with amount of skins and soaking time.
Golden
Add 2 to 3 teaspoons of turmeric to hot water, or boil for more intense color..
Pink
Soak hard-boiled eggs in cranberry or beet juice.
Violet Blue
Add violet blossoms to hot water and soak overnight. Lighten the mixture with lemon juice to create lavender.
Blue
Two heads (16 cups) of chopped red cabbage, 2 additional quarts of water and 6 additional tablespoons of white vinegar. Soak overnight for a deep royal blue.
Green
Add ¼ teaspoon baking soda to Violet Blue mixture or boil eggs with spinach.
Lavender
Soak hard-boiled eggs in grape juice.
Pastels
For soft pinks and blues, rub eggshells with blueberries and cranberries.
Beige
4 packed cups of yellow onion skins. Boil for 30 minutes to an hour. Adjust the shade of beige with amount of skins and soaking time.
Rich Brown
Boil eggs in 1 quart of coffee.

How to Make Bunny Cookies
Submitted by: Wolfmama
Step 1:
Sift together flour, baking soda, ginger, cinnamon, cloves and salt onto waxed paper.
Step 2:
Beat together shortening, sugar and egg in large bowl with electric mixer until fluffy, for about 3 minutes. Beat in the molasses and cider vinegar. Stir in flour mixture until blended and smooth. Gather dough into ball; wrap and chill for several hours.
Step 3:
Preheat oven to 375°F. Divide dough in half. Roll out half of the dough with lightly floured surface to generous 1/8-inch thickness. Keep remainder of dough refrigerated while working with first half.
Step 4:
To use a bunny pattern, draw a pattern onto a piece of cardboard. Make sure ears are attached to the head. Cut out pattern. Place pattern on dough and trace with a toothpick. Cut out cookies. Place 1 inch apart on lightly greased baking sheets. Reroll scraps, using up all the dough. Repeat with remaining dough.
Step 5:
Bake in preheated 375 °F oven for 5-7 minutes or until firm. Transfer to wire rack to cool completely. Step 6 If you wish to decorate cookies, prepare Decorator Icing, tinting portions if you wish. Decorate cookies as desired. Let cookies stand until icing is firm. Store in airtight container between sheets of waxed paper for up to 2 weeks.
Decorator Icing:
Prepare one recipe Royal Icing, using packaged meringue powder and following the directions on the package. Dried meringue powder is best for uncooked frostings due to the increased concern about the presence of salmonella bacteria in raw eggs. Meringue powder is available in stores where decorating and baking supplies are sold.

Raisin Sauce for Ham
Submitted by: Dixi
1 1/2 cups raisins
2 teaspoons prepared mustard
1/2 tablespoon salt
1 tablespoon vinegar (or more)
pepper to taste
2 tablespoons cornstarch
Simmer raisins in water to cover for 1 hour. Add mustard, sugar, salt, pepper and vinegar. Dissolve cornstarch in small amount of cold water; add to sugar mixture. Bring to a boil, stirring constantly. Serve hot with baked ham. Makes 2 servings.

To submit your favorite recipes to be included in the Garden of Friendship Recipe Book, please email them to Barbiel
Background graphics made especially for the Recipes Committee of the Garden of Friendship by Valatine