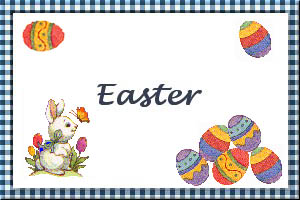 How to Make Egg Cookies
Submitted by: Barbiel


1 3/4 cups sifted flour
1/2 teaspoon baking powder
1/4 teaspoon salt
2/3 cups unsalted butter, at room temperature
1/2 cups granulated sugar
1 teaspoon vanilla extract
1 egg (optional)
1 teaspoon fresh lemon juice
2 tablespoons grated lemon zest
Royal Icing (recipe below)
In a large bowl, using an electric mixer set on medium speed, beat butter, salt and sugar until light and fluffy. Stir in vanilla extract, lemon juice and lemon zest. Add egg (optional). Gradually stir in flour and baking powder until a soft dough forms. Shape dough into a ball and wrap in plastic wrap. Chill for 30 minutes. Preheat oven to 350°F. On a lightly floured surface, using a lightly floured rolling pin, roll dough to a 1/4 inch thickness. Using the egg template (foto below) cut out shapes. Place shapes on ungreased baking sheets. Bake the cookies until firm about 10-12 minutes. Place baking sheets on wire racks. Cool slightly. Thansfer cookies towire racks. Let them cool completely. Cover with Royal Icing. Makes 3 dozen cookies.



Royal Icing:
2 pasteurized egg whites
4 cups powdered sugar, plus more as needed
1 teaspoon water, optional
food coloring, as desired
Beat egg whites and sugar in a large bowl with an electric mixer about 10 minutes or until stiff enough to spread. If icing is too stiff, beat in 1 teaspoon water. If too thin, continue beating 2 to 3 minutes or beat in 1/4 cup powdered sugar.
Coloring icings: divide icing among several bowls and add food coloring as desired. Using knife or spatula, spread icing on cookies. Hang the cookies with thread or thin ribbons from the tree branch.

Paper Mache Easter Egg
Submitted by: Barbiel



large, oval balloon
newspaper
masking tape
cardboard
paint
string or yarn
Paper-Mache Paste
1/2 cup non-self-rising wheat flour
1/4 cup powdered resin glue
1/2 cup warm water
1 1/2 cups hot water
4 drops oil of cinnamon
This paper mache Easter egg can be used as a fun decoration, a party pinata, or both! Make sure you cover you work surface well. I usually set down newspaper first and then wax paper on top of the newspaper. This is a very messy project! Tear several newspaper pages into strips. You will want them 1 inch wide and about 6 - 8 inches long. Set them aside. Use a large bowl to prepare your Paper-Mache Paste. The paste will be sticky so please use a bowl that is easy to soak and clean (glass perhaps) or even a disposable bowl. Blow up the balloon and tie it closed. Now you are ready to start with the paper mache (to hold your ballon while you are working on it, you might want to try to set it in a cup or bowl that is covered with plastic wrap). Dip the newspaper strips into the glue and spread them onto the balloon. Completely cover the balloon, leaving a small hole at the top to remove the balloon (and fill if you are making a pinata). Let the first layer dry. Add at least two more layers of paper mache to your balloon. Allow each layer to dry completely before putting on the next layer. Once it is dry, pop the balloon and remove it through the opening you left at the top (If you cannot get the balloon out, don't worry about it too much - No one will see it). You can now decorate your Easter Egg. The fastest way is to paint it with pastel designs. After the paint is dry, you can hang some crepe paper streamers from the bottom if you like. If you are making a pinata, this would be a good time to fill it with treats also.You can also decorate your paper mache egg using 3 inch squares of tissue paper. Spread some glue on your pinata. Hold the 4 corners of your tissue paper square together and then stick the center of the tissue paper square onto the glue. The 4 corners hould not touch the glue, they should remain sticking up.To hang your Easter Egg, poke 4 small holes evenly spaced around the larger hole in the top. Thread a piece of string, yarn, or even fishing line through each hole and tie the together at the top. Tie a longer piece of string onto the these.

Egg Grass
Submitted by: Barbiel

20 egg yolks
2 egg whites
500 g sugar
3 dl water
Separate the yolks from the whites and pass the yolks through a sieve together with the two egg whites which have been cut with a knife. Meanwhile make a syrup of sugar and hot water and let it boil until it forms a thin stream when dripped from a spoon. While syrup continues to boil add the egg yolks (already passed through a special funnel with three spouts). Hold the shaft of the funnel with your right hand and describe slow, circular motions so that the egg threads do not break and so that they cook in the syrup. The higher the level from which you pour the egg yolk threads, the thinner they will be. As soon as the funnel is empty, take the deep pan off the stove, add a little water and take out the egg yolk threads with a skimming laddle, placing them on a wet place. Place the sugar-and-water syrup on the flame once again and continue in the same way until there are no more egg yolks. Color with green food coloring and decorate cakes or candy or any arrangement you may use for Easter. It looks wonderful when decorating a cake or bread in a form of a basket.

To submit your favorite recipes to be included in the Garden of Friendship Recipe Book, please email them to Barbiel
Background graphics made especially for the Recipes Committee of the Garden of Friendship by Valatine