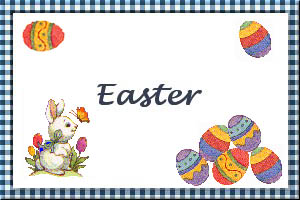 Classic Deviled Eggs
Submitted by: Shannon
6 hard boiled eggs (large)
3 tablespoons mayonnaise or salad dressing
1 tablespoon sugar
1 teaspoon mustard (honey mustard is great!)
1 teaspoon vinegar
salt to taste
pepper to taste
paprika (optional)
To boil eggs, place eggs in enough cold water to cover completely, bring to a rolling boil over high heat. Reduce heat to a lower medium boil and cook an additional 12 minutes. Promptly chill eggs so yolks stay bright yellow. Remove shells from eggs and halve lengthwise with a knife. Carefully remove the yolks and place in a medium bowl. Mash yolks with a fork and add remaining ingredients. Very carefully spoon mixture back into the egg white halves. Garnish with a light sprinkling of paprika (optional). Makes 12 Deviled Eggs.
Note: Serve for any occasion, whether it be a wedding feast, a picnic in the park, or for lunch or dinner!
Source: http://www.goodegg.com/recipe/deviledegg.html

Spring Veggie Pizza
Submitted by: De S
2 packages crescent dinner rolls
1 tub (8oz) cream cheese
1/2 cup Mayonnaise
1 teaspon dill weed
1 cup each: chopped sugar snap peas and quartered cherry tomatoes
1/2 cup each: sliced radishes, chopped yellow peppers and shredded carrots
3 green onions, chopped
1/2 teaspoon onion salt
Preheat oven to 375'°F. Unroll dough, separate into 4 rectangles. Press onto bottom and up sides of 15x10x1 baking pan to form crust. Bake 12 minutes, or until golden brown. Mix cream cheese spread, dressing, dill weed and onion salt until well blended. Spread onto crust and top with remaining ingredients. Refrigerate at least 2 hours before cutting to serve. Makes 32 servings, one appetizer each.

Title
Submitted by:
Ingredients
Ingredients
Instructions

To submit your favorite recipes to be included in the Garden of Friendship Recipe Book, please email them to Barbiel
Background graphics made especially for the Recipes Committee of the Garden of Friendship by Valatine