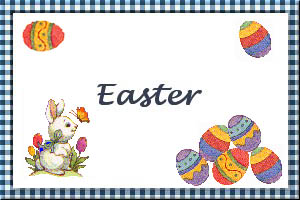 Banana Sour Cream Pie
Submitted by: Unicorn

pie shell
2 large bananas
1 cup sour cream
1 cup milk
1 3 3/4-ounce package vanilla instant pudding/pie filling
1 10-ounce package frozen berries (raspberries/strawberries) thawed
whipped topping, if desired
Bake pie shell. Slice bananas. Arrange on bottom of pie shell. Beat next 3 ingredients until thick, about 1 minute. Spread pudding mix evenly over bananas. Refrigerate at least 2 hours. Garnish with whipped topping, if desired. Top with berries. For best results, serve pie same day as prepared. Serves 7.
Note: You can decorate the pie only with banana slices if you want (see foto).

Easter Almond Pudding
Submitted by: Barbiel
1 oz. unsalted butter
1 cup milk
1 cup heavy cream
1 blade of mace
1 piece of cinnamon stick
grated rind of 1 lemon
3 oz. caster sugar
6 oz. fine breadcrumbs
4 oz. almond biscuits (cookies), crushed
4 oz. ground almonds
1/2 teaspoon nutmeg
pinch of Salt
4 eggs, slightly beaten
1 to 2 tablespoons candied peel
1 to 2 tablespoons currants

Preheat oven to 375°F (190°C). Lightly butter a gratin or glass casserole dish and reserve. In a saucepan over medium-high heat, bring the milk and cream to the boil. Reduce the heat and add the mace, cinnamon, lemon rind, and sugar; stir well and simmer for about 10 minutes. Place the breadcrumbs and the crushed almond cookies in a mixing bowl. Pour the milk mixture through a sieve and stir in the ground almonds. Mix thoroughly. Leave the mixture to cool a bit, then add the nutmeg and salt. Combine a few tablespoons of the mixture with the slightly beaten eggs to temper and add to the mixture along with the candied peel and currants; blend well. Bake for about 45 minutes. Let cool before serving with cream. Refrigerate any remaining pudding. Makes 4-6 servings.

Easter Pie
Submitted by: Barbiel
1 2/3 cups flour
2 tablespoons sugar
1/2 teaspoon salt
1/4 teaspoon baking powder
1/4 cup butter or margarine
1/4 cup shortening
2 eggs, beaten

In a bowl, combine the flour, sugar, salt, and baking powder; cut in butter and shortening until mixture resembles small crumbs. Add eggs; stir until moistened and mixture forms a ball. Cover and chill for one hour. On a lightly floured surface; roll out dough to a 10 inch circle. Place in a 9 inch pie pan and flute edges. Refrigerate.
Filling:
1 carton (15 ounces) ricotta cheese
1 cup sugar
1 tablespoon flour
1/4 teaspoon grated lemon peel
1/4 teaspoon orange peel
dash salt
4 eggs
2 teaspoons vanilla extract
1/3 cup semisweet chocolate chips
1/3 cup diced citron
1/8 teaspoon cinnamon
dash nutmeg
Filling: Beat the ricotta, sugar, and flour in a mixing bowl. Add peels and salt; beat until smooth. In another bowl, beat eggs until thick and lemon colored; about 5 minutes. Slowly fold into ricotta mixture. Gently mix in remaining ingredients. Pour into the crust. Bake at 350°F for 55-60 minutes or until pie tests done.

To submit your favorite recipes to be included in the Garden of Friendship Recipe Book, please email them to Barbiel
Background graphics made especially for the Recipes Committee of the Garden of Friendship by Valatine