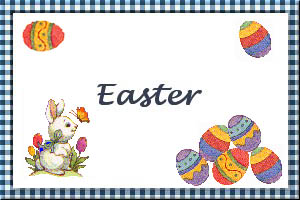 Easter Lemonade Dessert
Submitted by: LisaW
1 envelope unflavored gelatin
1 (6 oz.) can frozen lemonade concentrate
1 (10") tube angel food cake
1/2 cup sugar
12 beaten eggs
dash of salt
1/4 cupwater
1 (14-1/2 oz.) can evaporated milk
Chill evaporated milk and whip. Mix gelatin, sugar and salt. Add eggs and water. Cook and stir until gelatin dissolves, remove from heat. Stir in lemonade concentrate and chill until partially set. Fold in whipped milk. Rub brown crumbs off cake and break into bite size pieces. Cover bottom of 10" tube pan with thin layer of gelatin mixture. Loosely arrange 1/3 of cake pieces on top. Pour 1/3 of remaining gelatin and repeat process. Chill until firm. Makes 12 servings.

Italian Ricotta Pie
Submitted by: BettyG
1 (3 lb) container Ricotta cheese
1/2 pint heavy cream
2 cups sugar
2 tablespoon flour
2 tablespoon Vanilla
1 dozen eggs
Mix all ingredients thoroughly, except heavy cream. Then fold in heavy cream. Pour into spring form pan. Bake at 325°F for 2 1/2 hours. If desired, chocolate chips or fruits can be added.
Note from BettyG: I love the taste of chocolate chips.

Chocolate Carrot Cake
Submitted by: BettyG
1 1/2 cups finely grated carrots
3/4 cup granulated sugar
1/2 cup Canola oil
1 cup boiling water
1 1/2 cups whole wheat flour
1/2 cup unsweetened cocoa powder
1 teaspoon cinnamon
1 1/2 teaspoon baking powder
1/2 teaspoon salt
Preheat oven to 350°F. In a large bowl, combine carrots, sugar and oil. Pour water over the mixture. In a separate bowl, combine the rest of the ingredients. Add to the carrot mixture and mix well. Pour into a lightly oiled and floured 8" square pan and bake 35 minutes.

To submit your favorite recipes to be included in the Garden of Friendship Recipe Book, please email them to Barbiel
Background graphics made especially for the Recipes Committee of the Garden of Friendship by Valatine