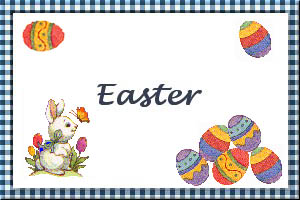 Pineapple Crown Cheesecake
Submitted by: BettyG
1 1/4 cups graham cracker crumbs
2 tablespoons melted butter
1 cup plus 2 tablespoons sugar
2 - 8 ounce packages Cream cheese
3 eggs
1 teaspoon Vanilla
1 pint Sour cream
1 can pineapple tidbits (8 3/4 ounces)
1/4 cup currant jelly
Grease a 9 inch springform pan. Sprinkle sides with 2 tablespoons crumbs. Combine remaining crumbs with 2 tablespoons butter. Press into bottom of pan. Beat Cream cheese and sugar together. Beat in eggs one at a time until fluffy. Fold in Vanilla and room temperature sour cream. Turn into pan and bake at 375°F for 30 minutes. Turn off heat and leave in hot oven for 1 hour. Chill then garnish with currant jelly and pineapple tidbits.

Chocolate Easter Eggs
Submitted by: Barbiel
1 cup unsalted butter, soft
2 teaspoons salt
4 teaspoons Vanilla extract
1 can sweetened condensed milk
I10 cups powdered sugar
1 teaspoon yellow food coloring
1 pound semi-sweet chocolate
powdered sugar for dusting the surface for kneading the candy
Beat with an electric mixer, butter, salt and Vanilla until fluffy. Add condensed milk, beat in the sugar. Blend until stiff. Dust the surface of a bread board of table top with the extra sugar. Knead until the candy is smooth. Set aside more than 2/3 of the mixture. To the remaining mixture add yellow food coloring. Blend in well. Divide yellow and white into 16 or 24 pieces. Shape yellow into balls, mold white around the yellow to form an egg shape. Dry at room temperature on paper towels for 24 hours. Melt the chocolate in double boiler or microwave until smooth. Dip eggs in chocolate (paraffin can also be melted in with the chocolate to give the chocolate a gloss). Once dipped, cool at room temperature. Refrigerate after cooling. When sliced, the candy will have a white outer shell with the center that appears to be egg yolks.

Orange Pineapple Cake
Submitted by: Barbiel
Cake:
1 yellow, butter cake mix
1 can mandarin oranges, do not discard juice
4 eggs
1/2 cup vegetable oil
Icing:
1 large can crushed pineapple
1 small box of vanilla instant pudding
1 carton whipped topping
Mix all Cake ingredients together well. Pour into a greased and floured 9x13 inch cake pan. Bake at 350°F for 20 min. Cool completely, then cover with Icing.
Icing: Mix dry pudding and the crushed pineappple together. Add to whipped topping and ice cake.
Note: Cake must keep refrigerated.

To submit your favorite recipes to be included in the Garden of Friendship Recipe Book, please email them to Barbiel
Background graphics made especially for the Recipes Committee of the Garden of Friendship by Valatine