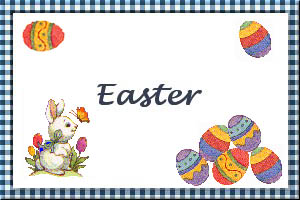 Strawberry Easter Pie
Submitted by: Wolfmama
1 1/4 cup crushed round buttery crackers
1 (8 ounces) package cream cheese, softened
2 tablespoons milk
1 package instant small vanilla pudding
1 (4 1/2 ounces) Cool Whip, thawed
1/4 cup melted butter
2 tablespoons sugar
1 cup or more of halved strawberries
1 1/2 cups cold milk
Roll out crumbs, mix with melted butter. Bake in 8 x 8 cake pan at 375°F for 8 minutes. Beat cream cheese with 2 tablespoons sugar and 2 tablespoons milk. Spread over crumbs, spread strawberries over cream cheese layer. Beat pudding and 1 1/2 cups milk until well blended, fold in 1 cup Cool Whip. Spoon over strawberries. Chill 2 hours. Can garnish with Cool Whip and/or a strawberry. Makes one pie.
Note: Can be doubled for 9 x 13 pan.

Easter Ricotta Rice Pie
Submitted by: Wolfmama
Cake:
2 cups sifted flour
7 tablespoons butter, at room temperature
1/2 cup sugar
1 egg and 1 egg yolk
pinch of salt
pinch of grated lemon peel
Filling:
1 pound Ricotta cheese
1 cup sugar
3 eggs
1 1/2 cup cooked rice
1 lb 4 ounces can crushed pineapple, drained
1/2 cup milk
1/2 teaspoon grated lemon peel
Mix flour and sugar for pastry. Stir in salt and peel. Cut in butter until mixture resembles coarse meal. Mix in the egg and egg yolk to form a soft dough. Put half the dough evenly into a 10 inch deep dish pie plate. Combine Ricotta, sugar, eggs, rice and pineapple. Stir in the milk and lemon peel. Pour filling into pastry lined dish. Roll remaining dough into strips and criss-cross on top of filling to form a lattice top. Crimp edges. Bake in a 350°F oven for 45 minutes. Makes one pie.

Italian Easter Dove
Submitted by: Cookie
2 large eggs
1/2 cup milk
1/4 cup butter or margarine (1/2 stick), cut up
1/4 cup water (70º to 80ºF)
1 teaspoon salt
3 1/4 cups bread flour
1/2 cup sugar
1 tablespoon freshly grated lemon peel
2 teaspoons Fleischmann's® Bread Machine Yeast
Dough: Measure 2 eggs, milk, butter, water, salt, 3 1/4 cups flour, sugar, lemon peel and yeast into bread machine pan in the order suggested by manufacturer. Process on dough/manual cycle.
Topping:
1/2 cup almond paste (3 1/2 ounces)
1/4 cup bread flour
1 large egg, divided use
1/4 cup slivered almonds
1 whole clove
Topping: Combine almond paste, 1/4 cup flour and 1 egg yolk (reserve egg white); knead 5 to 6 times or until smooth. Form into 1/2-inch balls; set aside.
Shape: When cycle is complete, remove dough to floured surface. If necessary, knead in additional flour to make dough easy to handle. Divide dough in half. For wings, roll one half of dough to 10 × 5-inch oval. Arrange in center of greased large baking sheet, curving ends downward. For body, roll remaining half of dough to a triangle, 15 inches high and 6 inches wide (at base); place on center of oval. Fold over top third of triangle from left to right; shape to form dove head. Fold over bottom third of triangle from right to left to form tail. With sharp knife, slash wings and tail at 1-inch intervals to form feathers. Lightly beat reserved egg white; brush on dough. Arrange almond paste balls, 1/2 inch apart, on body, tail and wings. Press one slivered almond into each ball. Press clove into head for eye. Cover; let rise in warm, draft-free place until doubled in size, about 45 to 60 minutes. Bake at 325ºF for 35 to 40 minutes or until done. Remove from pan; cool on wire rack.

To submit your favorite recipes to be included in the Garden of Friendship Recipe Book, please email them to Barbiel
Background graphics made especially for the Recipes Committee of the Garden of Friendship by Valatine