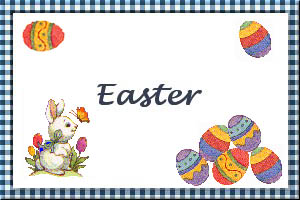 Italian Easter Cheesecake
Submitted by: Cookie
2 1/2 cups flour
1/2 cup shortening
1/2 cup sugar
1 tablespoon vanilla
1/2 teaspoon baking soda
1/4 cup milk
2 eggs
1 1/2 teaspoons baking powder
Cut flour and shortening as you do to make a pie crust. Add the remaining ingredients to make a soft dough. Roll and line a large rectangular baking pan (no need to grease pan) with the dough. I use a very old 11" X 16" blue speckled enamel pan. Chop cherries. Pour cherries, including juice, into large bowl. Add all remaining ingredients and beat with electric mixer very well. If you don't beat this enough, the eggs separate during baking and you'll end up with a custard on the bottom of the cake. Immediately pour into unbaked crust, bake at 350°F for 1 hour and 10 minutes. Shut oven off - let Casade cool in the oven for approximately 1 hour. If you have a little filling left over, just bake it in a pan without the crust. It should be fine and will also give you a "taste" without having to cut the "big" one before your guests arrive. This should be refrigerated when cooled. Makes 16 servings.
Filling:
2 pounds fine ricotta
1/4 cup Creme de Cocoa or Rum (I use rum)
2 cups sugar
1/2 pound chocolate bar, grated fine
rind of 1 lemon
rind of 1 orange
1 teaspoon vanilla
2 tablespoons cinnamon
1 dozen eggs
1 bottle maraschino cherries (about 8 ounces)
Note: Do not use cottage cheese!

Easter Chicks
Submitted by: Cookie
1/3 cup water (70º to 80ºF)
1/3 cup evaporated milk
1 large egg
3 tablespoons butter or margarine, cut up
3/4 teaspoon salt
2 1/2 cups bread flour
1/4 cup sugar
1 1/2 teaspoons freshly grated lemon peel
2 teaspoons Fleischmann's® Bread Machine Yeast
some raisins
Dough: Measure dough ingredients except raisins into bread machine pan in the order suggested by manufacturer. Process on dough/manual cycle.
Shape: When cycle is complete, remove dough to floured surface. If necessary, knead in additional flour to make dough easy to handle. Divide dough into 9 equal pieces; roll to 10-inch ropes. Tie each into knot, leaving one end slightly shorter. Place knots, short ends up, 2 inches apart on greased baking sheet. Pinch short end of knot to form head and pointed beak. Insert 2 raisins for eyes. With fingers, flatten long end of knot. With sharp knife, make 4 to 5 cuts to form tail. Cover; let rise in warm, draft-free place until almost doubled in size (about 20 to 30 minutes). Bake at 375ºF for 12 to 15 minutes or until golden brown, covering with foil after 8 minutes to prevent excess browning. Remove from pan to wire rack. Place rack over jelly roll pan or waxed paper; immediately brush with Glaze while warm.
Glaze:
2/3 cup sifted powdered sugar
1 to 2 tablespoons evaporated milk
1/4 teaspoon pure vanilla extract
In small bowl, combine glaze ingredients; stir until smooth.

Pineapple Easter Salad
Submitted by: Jana
1 (3 1/2 oz.) package pistachio pudding
1 (16 oz.) container Cool Whip
1 small can crushed pineapple, drained
2 to 3 bananas
Mix pistachio pudding and cool. Whip gently. Add drained pineapple to mixture. Cut bananas into bite-size pieces and add immediately to salad. Serves 4-6.

To submit your favorite recipes to be included in the Garden of Friendship Recipe Book, please email them to Barbiel
Background graphics made especially for the Recipes Committee of the Garden of Friendship by Valatine