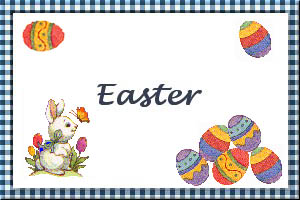 Easter Pie I
Submitted by: JoyC
20 miniature peanut butter cups
50 chocolate kisses
1 large tub (12 oz.) frozen nondairy whipped topping, thawed
1 Graham Cracker Pie Crust (6 oz size)
candy coated chocolate eggs to garnish
Chop each peanut butter cup into 6 pieces; set aside. Microwave 50 Kisses in a medium microwave safe bowl on high - 1 minute or just until chocolate is melted when stirred. Stir in 3 1/2 cups whipped topping until blended. Spread half of chocolate mixture into crust; sprinkle with peanut butter cup pieces. Top with remaining chocolate mixture. Refrigerate 3 hours or until set.3. Spread with remaining whipped topping just before serving. Garnish each slice with 3 candy coated eggs. Makes 8 servings.

Coconut Macaroon Shortcake
Submitted by: Wolfmama
1 1/3 cups (3 1/2 ounces) flaked coconut
1/2 cup chopped almonds
1/3 cup sugar
2 tablespoons flour
1/8 teaspoon salt
2 egg whites
1/2 teaspoon almond extract
1 1/2 cups thawed whipped topping
1 pint strawberries, sliced
(or use thawed frozen berries)
Heat oven to 325°F. Mix coconut, almonds sugar, flour and salt in a large bowl. Stir in egg whites and almond extract until well blended. Trace a 9 inch circle on a well greased, foil-lined cookie sheet. Spread coconut mixture evenly in circle. Bake 15 to 20 minutes or until lightly browned. Cool on wire rack. Remove from foil. Place on serving plate. Spread whipped topping evenly over macaroon. Top with sliced berries or whatever you please. Cut into wedges and serve. Makes 8 servings.

Easter Pie II
Submitted by: Barbiel
1/2 cup butter
1/3 cup white sugar
1 egg yolk
2 cups all-purpose flour
1 cup uncooked white rice
2 cups water
1/4 cup raisins
1 1/3 cups milk
1 1/2 tablespoons grated orange zest
1 tablespoon white sugar
1 cup ricotta cheese
3 egg yolks
1/3 cup white sugar
1/8 teaspoon ground cinnamon
1 teaspoon vanilla extract
2 tablespoons orange flower water
4 egg whites
Preheat oven to 350°F (175°C). In a saucepan, bring 2 cups water to a boil. Add rice and stir. Reduce heat, cover and simmer for 20 minutes. Remove from heat and set aside. Place raisins in a small saucepan and cover with boiling water. Cook over low heat or 10 minutes. Remove from heat, drain and set aside. Make the dough: In a medium bowl, cream butter and 1/3 cup sugar until light and fluffy. Beat in 1 egg yolk. Stir in flour until mixture forms a ball. Wrap with plastic and let rest in refrigerator for at least 2 hours. In a medium saucepan, combine cooked rice, milk, orange zest and 1 tablespoon of sugar. Cook over low heat, stirring frequently, until mixture is creamy and thick. Remove from heat. Mix in ricotta cheese, 3 egg yolks, 1/3 cup sugar, cooked raisins and cinnamon. Stir in vanilla and orange flower water. In a large glass or metal mixing bowl, beat egg whites until stiff peaks form. Fold 1/3 of the whites into the batter, then quickly fold in remaining whites until no streaks remain. Roll out 3/4 of the pastry dough into an 11 inch circle and line the bottom and sides of a 9 inch springform pan. Pour filling into dough. Roll out remaining 1/4 of the dough into a 10 inch circle and cut into lattice strips. Criss-cross the strips over the filling. Seal the lattice strips to the bottom pastry. Bake in preheated oven for an hour or until pastry is golden brown. Cool at room temperature for about 5 hours. Makes 1 - 9 inch deep dish pie.

To submit your favorite recipes to be included in the Garden of Friendship Recipe Book, please email them to Barbiel
Background graphics made especially for the Recipes Committee of the Garden of Friendship by Valatine