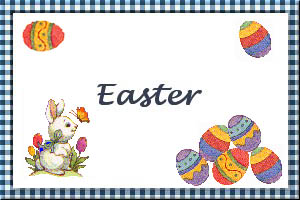 Pashka
Submitted by: Lady Seanna
Recipe Courtesy: Lesley Waters
675 g curd cheese
100 g blanched almonds, chopped
200 g bitter plain chocolate, chopped into small chunks
3 teaspoons Vanilla extract
75 g raisins
2 egg yolks
75 g caster sugar
150 ml double cream
115 g soft unsalted butter
Berry Sauce (recipe below)
In a large mixing bowl mix together the curd cheese, almonds, chocolate, vanilla extract and raisins together. In a small bowl cream the egg yolks with the caster sugar until light and creamy and beat in the butter. In a bowl lightly whip the double cream. Add the creamed yolk mixture and the double cream to the cheese mixture and fold together thoroughly. For a mould, line a clean flower-pot with muslin or a clean J-cloth. Transfer the mixture into the prepared mould. Fold the excess muslin over the top, cover with a plate and weigh the plate down with any thing heavy (such as a tin of beans). Chill the Paskha in the refrigerator for at least 12 hours, standing the pot on a dish so that any excess liquid drains away. Turn the Paskha out in the centre of a large serving dish and spoon over the Berry Sauce. Serve at once. Makes 8-12 servings.
Berry Sauce:
500 g frozen summer fruits, thawed
2-3 tablespoons icing sugar or to taste
1 tablespoon Bandy
Place all the sauce ingredients in a saucepan. Heat gently until warmed through.

Springtime Lime Pie
Submitted by: PrayingBear
1 deep dish Graham cracker crust
one 6 oz can limeade, thawed
1 can sweetened condensed milk, chilled well
one 8 oz carton whipped topping, thawed
In a large mixing bowl, combine limeade, the sweetened condensed milk and the whipped topping. Mix on low speed til blended, then mix at high speed for about 2 minutes. Pour into the Graham cracker crust. Chill several hours or overnight before serving.

Easter Bunny and/or Basket Cupcakes
Submitted by: KatjaGirl
2 cups sugar
1 3/4 cups all purpose flour
3/4 cup cocoa
1 1/2 teaspoons baking powder
1 1/2 teaspoons baking soda
1 teaspoon salt
2 eggs
1 cup milk
1/2 cup vegetable oil
2 teaspoons Vanilla extract
1 cup boiling water
3 3/4 cups (10 ounce package) coconut flakes, tinted (see *Note)
marshmallows, mini chocolate kisses, licorice, jelly beans to garnish
Vanilla Frosting (recipe below)
Heat oven to 350°F. Line muffin cups (2-1/2 inches in diameter) with paper bake cups. In large bowl, stir together sugar, flour, cocoa, baking powder, baking soda and salt. Add eggs, milk, oil and Vanilla. Beat on medium speed of electric mixer 2 minutes. Stir in boiling water (batter will be thin). Fill muffin cups 2/3 full with batter. Bake 22 to 25 minutes or until wooden pick inserted in center comes out clean. Cool completely. Prepare Vanilla Frosting and frost cupcakes. Immediately press desired color tinted coconut onto each cupcake. Garnish as desired to resemble Easter Basket or Bunny. Yield: About 33 cupcakes.
Vanilla Frosting:
1/3 cup softened butter or margarine
3 1/2 cups powdered sugar
1 1/2 teaspoons vanilla extract
1/4 cup milk
In medium bowl, beat 1/3 cup softened butter or margarine. Add 1 cup powdered sugar and 1-1/2 teaspoons Vanilla extract. Beat well. Add 2-1/2 cups powdered sugar alternately with 1/4 cup milk, beating to spreading consistency. Yield: About 2 cups frosting.
*Note: Tinting coconut: Combine several drops desired color food color with 3/4 teaspoon water; add to 1 1/2 cups coconut. Stir until evenly tinted.

To submit your favorite recipes to be included in the Garden of Friendship Recipe Book, please email them to Barbiel
Background graphics made especially for the Recipes Committee of the Garden of Friendship by Valatine