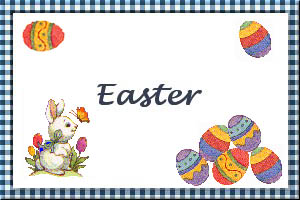 Potato Bake
Submitted by: Betty G.
1 28-ounce bag Potatoes O'Brien
1 10 3/4-ounce can cream of mushroom soup
1 cup sour cream
8-12 ounces grated cheddar cheese*
1 2.8- ounce can French's Fried Onions
salt and pepper to taste
In large bowl, mix potatoes, soup and sour cream. Add salt and pepper to taste. Place in 13x9 pan and top with cheese. Bake in 350°F oven for 35 minutes or until bubbly. Top with French's French Fried Onions and bake an additional 5 minutes at 400°F. Remove and cool 5 minutes before serving. Serves 6 to 8.
*Note: I use a combination of Jalapeno Jack and Cheddar cheese but the choice and amount are up to you.

Devilled Eggs
Submitted by: Barbiel

1 dozen eggs, hard cooked
real mayonnaise
1 teaspoon garlic salt
1 tablespoon any all-purpose seasoning
green olives for garnish
1 dash paprika, on each egg
1 tablespoon dill relish (optional)
parsley to decorate (optional)
Cook eggs. Bring water to boil, cover pot and turn heat on low for 20 minutes. Simmer very low with the lid on the pot - then immerse in cool water and peel. Cut each egg in half and put yolks in small bowl. Arrange whites on serving plate. Add real mayonnaise to yolks and mash with a fork until desired consistency. Add garlic salt and all-purpose seasoning and mix well. Fill egg whites and top each with half of an olive. Decorate with parsley. You may sprinkle additional seasoning on each also to make attractive for serving. Makes 12 eggs.

Leftover Easter Egg Devilled Eggs
Submitted by: Barbiel
6 eggs, hard-cooked and halved lengthwise
1/4 cup mayonnaise
1 teaspoon mustard
1 teaspoon white vinegar
1/2 teaspoon salt
paprika
Scoop egg yolks into bowl. Set aside egg whites. Add mayonnaise, mustard, vinegar, and salt to yolks. Mash together with fork until smooth. Spoon mixture into egg white halves. Garnish by sprinkling tops with paprika. Serve on a platter with bunches of fresh parsley. Serves 6.

To submit your favorite recipes to be included in the Garden of Friendship Recipe Book, please email them to Barbiel
Background graphics made especially for the Recipes Committee of the Garden of Friendship by Valatine