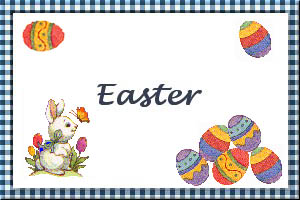 Easter Egg Salad
Submitted by: Wolfmama
1 3-oz. package of gelatin (any flavor)
1 teaspoon lemon juice
1/2 cup finely chopped celery and carrots
12 eggs shells
lettuce
mayonnaise
Mix gelatin in a small bowl according to package instructions. Add the lemon juice and vegetables; stir. Using raw eggs, break the shells very carefully, so that just the tip of the shell is broken when the egg is removed. Dry the shells, then pour the fruit salad into the opening. Cover the hole with cellophane or adhesive tape, and set into custard or muffin cups. Chill until the gelatin is firm (overnight if possible). Then break away the egg shell, place on lettuce and top with mayonnaise.

Bunny Salad
Submitted by: Jana
lettuce
1 can pear halves
whole cloves
almond halves
cottage cheese
Put a lettuce leaf on a plate. Lay half a pear on lettuce flat side down. Place a clove on each side of the narrow part of the pear for eyes (2 cloves). Add two almond halves for the ears. Use 1 teaspoon cottage cheese for a tail. Serves 4-6.

Honey-Glazed Baby Carrots
Submitted by: Merribuck
1 pound baby carrots, trimmed and peeled
2 tablespoons unsalted butter
2 tablespoons honey
In a steamer, set over boiling water, steam the carrots, covered, for 4 to 8 minutes or until they are just tender. In a small skillet melt the butter with the honey over moderately low heat, add the carrots and salt and pepper to taste, and cook the carrots, tossing them, for 1 minute, or until they are well-coated with the glaze. Yield: 4 servings

To submit your favorite recipes to be included in the Garden of Friendship Recipe Book, please email them to Barbiel
Background graphics made especially for the Recipes Committee of the Garden of Friendship by Valatine