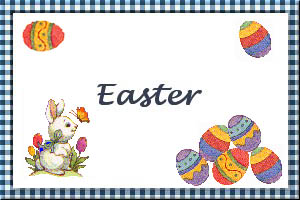 Easter Egg Sandwiches
Submitted by: CajunSue
6 hard-cooked eggs, peeled and chopped
1/2 cup finely chopped celery
1/4 cup chopped green pepper (optional)
2 tablespoons finely chopped green onion
1/3 cup mayonnaise
1/4 teaspoon salt
a dash of pepper
Mix all ingredients and spread on bread. Makes 6 sandwiches.

Cream Cheese Stuffed Mushrooms
Submitted by: LadyLynda
16 - 20 large fresh mushrooms
(cleaned and stems removed)
8 ounces cream cheese, softened
2 cloves garlic, minced
1/4 cup green onion, chopped
1/4 cup fresh parsley, chopped
1/2 teaspoon Worcestershire sauce
salt and pepper to taste
1 cup Parmesan cheese, grated
Combine cream cheese, garlic, green onion, parsley, Worcestershire sauce and salt and pepper and mix well. Fill each mushroom and sprinkle with Parmesan cheese. Bake at 350°F for about 20 minutes. Serve warm. Serves 4.

Baked Asparagus with Toasted Walnuts
Submitted by: JoyC
Asparagus:
2 to 3 pounds asparagus
(the thinnest spears available)
salt and freshly ground black pepper
1 tablespoon nondairy or regular margarine or butter
(cut into small pieces)
Walnut Topping:
3 tablespoons walnut oil or olive oil
1-1/2 tablespoons lemon juice
salt to taste
freshly ground black pepper to taste
4 tablespoons finely chopped walnuts
(toasted at 350°F until golden, about 10 minutes)
Asparagus: Preheat oven to 300°F. Break off woody stems of asparagus. If stalks are thick, peel with a vegetable peeler; pulling from stem end toward tip. (Pencil thin spears do not need peeling.) Place in a greased or sprayed 9 x l3 inch glass baking dish. Sprinkle lightly with salt and pepper. Dot with margarine. Cover with foil and bake for 30 to 35 minutes, or until tender but still crisp. Makes: 8 to 10 servings.
Topping: In a small bowl, whisk together oil, lemon juice, salt, and pepper. Before serving spoon topping over asparagus and sprinkle with walnuts.
Notes: Baking asparagus eliminates all the guesswork, because oven heat is constant and they cook more evenly. Put the spears in a casserole, dot them with margarine, and bake. When crisp tender, sprinkle on some lemon juice and toasted walnuts. Preparation time: 10 minutes
Asparagus may be baked one day ahead and reheated in microwave. Topping may be refrigerated overnight. Bring to room temperature before using.

To submit your favorite recipes to be included in the Garden of Friendship Recipe Book, please email them to Barbiel
Background graphics made especially for the Recipes Committee of the Garden of Friendship by Valatine