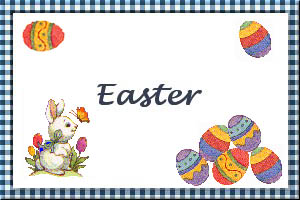 Marble Stuffed Eggs
Submitted by: Merribuck
6 eggs
1/4 cup mayonnaise
1 1/2 tablespoons sweet pickle relish
1 teaspoon prepared mustard
1/8 teaspoon prepared mustad
1/8 teaspoon salt
dash of pepper
paprika (if desired)
1 bowl ice water
1 can beets
2 packages of fresh spinach
green food coloring (optional)
Place 6 eggs in pan of cold water. Add water to cover. Bring water to a boil, cover and remove from heat. Let stand 15 minutes. Drain and place eggs in bowl of ice water. Let stand 5 minutes, remove and drain. (This will not only stop the cooking process, but the contraction from the cold water will make them easier to peel). Gently tap eggs with the bowl of a spoon, forming cracks over the surface of the shell. Make sure they are cracked all over. Drain can of beets into a bowl reserving beets for later. Cook spinach in 2 cups of water. Drain, pouring spinach water into a bowl; put spinach aside. If the spinach water does not look green enough to you, add a little green food coloring if you wish. Place 3 eggs, with their cracked shells, into the bowl of beet juice. Place remaining 3 eggs into the bowl of spinach juice. Let stand, in the refrigerator, over night. After eggs have sat over night, remove from the juices and gently peel. You will now how beautifully marbled eggs in shades of pink and geen. Slice eggs in half lengthwise and carefully remove yolks. Mash yolks with mayonnaise. Add relish, mustard, salt and pepper; stir well. Spoon yolk mixture into egg whites. Sprinkle with paprika. Yield: 6 servings.
Note: I made this up a few years back and was so pleased with the results. These make a beautiful presentation at parties and showers. And if you buy the eggs about a week ahead of time they will be easier to peel.

Jansson's Temptation
Submitted by: Ugglemor
6 potatoes
2 yellow onions
1 can anchovy fillets
1 1/4 to 1 1/2 cups light cream
1 tablespoon margarine or butter
Peel the potatoes, cut in thin sticks or grate. Slice the onions. Drain the anchovies and cut in pieces. Put the potatoes, onions and anchovies in layers in buttered baking disk. The first and last layer should be potatoes. Dot with margarine or butter on top. Pour in a little of the liquid from the anchovies and half of the cream. Bake in a 400°F oven for about 20 minutes. Pour in the remaining cream and bake for another 30 minutes or until the potatoes are tender.
Note from Ugglemor: Serve as a first course or supper dish. This is a swedish recipe and traditional to Swedish Smorgasbord.

Rabbit-Out-of-the-Hat Salad
Submitted by: KatjaGirl

8 lettuce leaves
8 chilled canned pear halves
16 raisins
8 red cinnamon candies
16 sliced almonds
1 cup Cottage cheese
Place 1 lettuce leaf on each salad plate. Place 1 pear half, cut side down, on each lettuce leaf. Arrange 2 raisins for eyes, 1 candy for nose and 2 almonds for ears on narrow end of each pear half to make rabbit face. Place 2 tablespoons Cottage cheese at opposite end of each pear half for tail.
Note: Substitution: No Cottage cheese? A regular-size marshmallow that's cut in half looks just like a bunny's tail.

To submit your favorite recipes to be included in the Garden of Friendship Recipe Book, please email them to Barbiel
Background graphics made especially for the Recipes Committee of the Garden of Friendship by Valatine