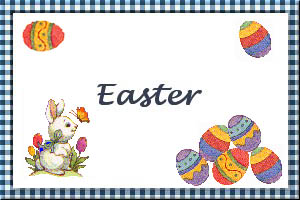 Asparagus with Hard Boiled Eggs
Submitted by: Honey-Due
2 pounds thin asparagus
1 hard boiled egg, shelled and chopped fine
1 tablespoon finely chopped fresh parsley leaves
salt to taste
freshly ground black pepper to taste
2 tablespoons unsalted butter, melted
Snap off the ends of the asparagus. You should end up with about a pound of asparagus tips. Place the asparagus tips in a large nonreactive skillet and cover with water. Turn the heat to high, bring water to a boil, and cook the asparagus tips until they are soft (about 25 minutes). Drain and arrange them on an oval platter with all the tips pointing in one direction. Sprinkle the asparagus with the chopped egg and parsley and season with salt and pepper. Pour the butter over everything and serve immediately. Makes 4 servings.

Baby Potatoes with Garlic and Rosemary
Submitted by: Lady Seanna
1 pound baby red or white potatoes
2 tablespoons Olive oil
1 tabalespoon garlic, minced
1 tablespoon chopped fresh rosemary
salt to taste
pepper to taste
Steam potatoes until tender (about twenty minutes). Sauté garlic in Olive oil for a minute or two, then add rosemary and sauté another minute. Toss drained potatoes in garlic mixture. Season with salt and pepper and serve. Makes 2 servings.

Chicken Dumpling Soup
Submitted by: Lady Lynda
2 to 3 tablespoons cooking oil
1 large onion, diced
2 carrots, diced
1/2 stalk celery, diced
meat from 1 chicken, cooked and shredded
4 to 6 cups chicken broth
1 cup fresh cut green beans
1 cup pearl barley
1 teaspoon celery salt
1 tablespoon fresh chopped parsley
2 bay leaves
salt to taste
pepper to taste
Dumplings (see below)
Soup:
In a small amount of cooking oil sweat the onion, carrots and celery. Add chicken, broth, green beans, barley, celery salt, parsley and bay leaves. Simmer until the barley is tender, about 30 minutes.
Dumplings:
1 cup milk
1/2 cup butter
1/2 teaspoon salt
1/2 teaspoon nutmeg
1 cupall-purpose flour
3 eggs
Bring the milk and butter to a boil, add salt and nutmeg. Remove from heat and immediately add flour stirring until dough leaves the sides of the pan. Incorporate the eggs, one at a time, forming a sticky dough.
Season the soup, to taste, with salt and pepper. Add spoon sized balls of Dumpling dough and simmer until Dumplings rise.

To submit your favorite recipes to be included in the Garden of Friendship Recipe Book, please email them to Barbiel
Background graphics made especially for the Recipes Committee of the Garden of Friendship by Valatine