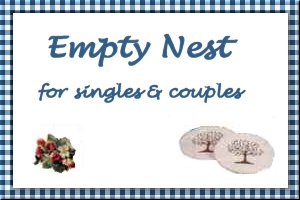 Rib-Eye Steak with Stilton
Submitted by: Merribuck
1/4 pound Stilton, softened (1/2 cup)
1/2 stick (1/4 cup) unsalted butter, softened
3/4 cup dry white wine
2 teaspoons freeze-dried green peppercorns
1/2 cup heavy cream
2 teaspoons minced fresh parsley leaves
1 inch thick rib-eye steak (about 1 pound)
watercress sprigs, for garnish
In a bowl cream together the cheese and the butter until the mixture is smooth. In a saucepan boil the wine with peppercorns until reduced to about 1 tablespoon, add the cream, and boil the liquid until reduced by half. Reduce the heat to moderately low, whisk the cheese mixture, a little at a time, into the cream mixture, and whisk in the parsley. Remove the pan from the heat and keep the sauce warm. Heat a well-seasoned ridged grill pan over moderately high heat until it is hot and in it cook the steak, patted dry and seasoned with salt and pepper, for 4 to 5 minutes on each for side for medium-rare meat. Alternatively, the steak may be broiled under a pre-heated broiler about 4 inches from the heat for the same amount of time. Let the steak stand on a cutting board for 10 minutes. Cut into thin slices, serve with the sauce and garnish with watercress. Yield: 2 servings.

Ground Beef with Microwaved Stuffed Green Peppers
Submitted by: Cricket
2 large green peppers, tops removed and seeded
1/8 cup water
1/2 lb lean ground beef
1/8 cup chopped onion
1 cup cooked rice
1 4 oz can tomato sauce
1/2 large garlic clove, finely chopped
1 tablespoons chopped celery
1/2 tablespoon Worcestershire sauce
1 teaspoons minced fresh parsley
1/4 teaspoon salt
freshly ground pepper to taste
2 tablespoons catsup
Place peppers upright in deep casserole (they should fit snugly). Add water. Cover and cook on High 3 minutes. Let stand without draining while preparing filling. Combine beef and onion in mixing bowl and cook on High 3 minutes. Stir to crumble beef. Add remaining ingredients except catsup and blend well. Divide among peppers. Cover and cook on High 10 minutes. Spread 1 Tablespoon catsup over top of each peppe r. Cover peppers and let stand about 2 to 3 minutes to soften (if you prefer crisper texture, do not let peppers stand. Serves 2.
Note: When converting your conventional recipes, remember that microwaves do not have the drying effect of oven or stovetop cooking, so recipes designed with traditional cooking methods may call for too much moisture. When the subject is ground beef, excess moisture can result in sogginess and uneven cooking. This recipe is adapted to cut down on the liquid called for in the original version. Ground beef has always been one of the cook's most versatile standbys, but when it joins forces with the microwave, hamburger acquires a whole new dimension. Most conventional hamburger recipes can be adapted to the microwave with gratifying results: This perennial favorite can be cooked in just 10 to 15 minutes instead of the customary hour.

Heart Smart Beef Stroganoff
Submitted by: KatjaGirl
4 oz. beef sirloin steak, trimmed of visible fat
1/2 cup nonfat yogurt or nonfat sour cream
1/4 cup chopped onion
1/2 can (10 and 1/2oz.) beef bouillon
1 tablespoon catsup
1/4 teaspoon minced garlic
1 1/2 tablespoons flour
1/4 lb. fresh mushrooms, sliced
vegetable spray

Cut meat diagonally into very thin slices. Cook and stir mushrooms and onion until tender in large skillet sprayed with vegetable spray; remove from skillet. In same skillet, brown meat lightly on both sides. Set aside 1/3 cup bouillon. Stir in remaining bouillon, catsup and garlic into skillet. Cover and simmer 15 minutes. Blend reserved 1/3 cup bouillon and flour; stir into skillet. Add mushrooms and onion. Heat to boiling, stirring constantly. Boil 1 minute. Stir in yogurt; heat through. Serve over hot noodles or rice. Makes 2 servings.

To submit your favorite recipes to be included in the Garden of Friendship Recipe Book, please email them to Barbiel
Background graphics made especially for the Recipes Committee of the Garden of Friendship by Valatine