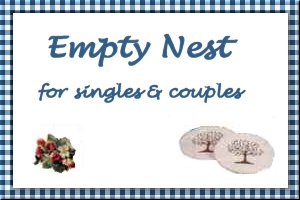 Stewed Rabbit with Peppers
Submitted by: CajunSue
1 rabbit
3 red sweet peppers, cut into strips
3 yellow sweet peppers, cut into strips
2 little young onions, finely chopped
4 tablespoons dried chives
2 teaspoons dried tarragon
2 teaspoons dried marjoram
2 teaspoons dried bay leaves
4 tablespoons fresh parsley, finely chopped
500 g (1,1 lb) puréed tomatoes
2 tablespoons tomato paste
1 glass of white wine
8 tablespoons extra virgin Olive oil
salt to taste
Cut rabbit into little pieces and put in a saucepan together with Olive oil, wine, tomato, aromatic herbs, onions and peppers. Season to taste with salt and cook over a gentle flame, half-covered, after adding 2 glasses of water, until meat and peppers are tender. Add other warm water only if necessary. Serves 2.
Note: This is a low fat recipe but tasty.

Country Fried Steak with White Gravy
Submitted by: SueW
1 cup vegetable oil
1 pound round steak, cut into 4 (4-ounce) pieces
salt and freshly ground black pepper to taste
1 egg, beaten
3 cups plus 3 tablespoons milk
1 1/2 cups plus 3 tablespoons all-purpose flour
Heat the oil in a heavy 9-inch cast iron skillet, to 360°F. Using a meat mallet, pound out the meat. Season the steak with salt and pepper. Combine the egg with 3 tablespoons of the milk. Put 1 1/2 cups of the flour in a shallow pan and season with salt and pepper. Dredge the steaks in the flour, coating each piece evenly and tapping off any excess. Drip the steak in the egg wash, coating it completely and letting the excess drip off. Dredge again in the flour, shaking off any excess. Fry the steaks in the hot oil, until golden brown on each side, about 3 minutes. Remove and drain on paper towels. Season with salt and pepper. Carefully pour off the oil, leaving behind about 1/4 cup of the oil along with the brown bits. Over medium heat, add the remaining 3 tablespoons flour and cook for 3 to 4 minutes, whisking constantly. Add the remaining 3 cups milk, 1/2 cup at a time, whisking constantly. Bring to a boil, then reduce the heat to medium-low. Season with salt and plenty of pepper. Cook for 8 to 10 minutes, whisking constantly. The gravy should be thick enough to coat the back of a spoon. If it is too thick, add a little water to thin it. Makes 2 servings.

Herb-Roasted Veal Chops
Submitted by: Merribuck
(Recipe courtesy Gourmet Magazine)
3 large garlic cloves
2 tablespoons chopped fresh sage leaves
2 tablespoons chopped fresh rosemary leaves
2 tablespoons Olive oil
salt and pepper to taste
4 veal rib chops
(each 1 1/4 inches thick and 12 to 14 ounces)
1 cup dry white wine
1 cup chicken broth
2 tablespoons cold unsalted butter
Finely chop garlic and in a small bowl stir together with herbs, salt, pepper, and 2 tablespoons oil. Pat chops dry and rub with all but 1 teaspoon herb mixture, reserving remaining for the sauce. Chill chops, covered, at least 15 minutes. Preheat oven to 375°F. Pat chops dry if necessary. In a 12 inch nonstick skillet heat oil over moderately high heat until hot but not smoking and brown chops, about 3 minutes on each side and a few seconds on edges. Transfer browned chops to shallow baking pan. Roast chops in middle of oven until an instant read thermometer inserted horizontally into a chop registers 160°F, 15 to 20 minutes. While chops are roasting, pour off any fat from skillet (do not wipe clean). Add wine and reserved herb mixture and deglaze skillet over high heat, scraping up brown bits, 1 minute. Boil wine mixture until reduced to about 1/4 cup, about 4 minutes. Add broth and boil until liquid is reduced by half, about 5 minutes. Transfer chops to a heated platter. Pour any juices from baking pan into sauce and bring to a boil. Cut butter into pieces and add to sauce, swirling skillet until sauce is slightly thickened and butter is incorporated. Serve chops with sauce. Serves 2.

To submit your favorite recipes to be included in the Garden of Friendship Recipe Book, please email them to Barbiel
Background graphics made especially for the Recipes Committee of the Garden of Friendship by Valatine