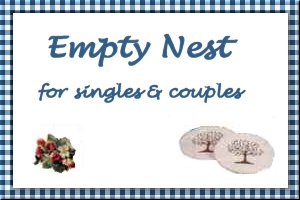 Savory Steak Dinner
Submitted by: LisaW
boneless sirloin or ribeye steak
salt and ground pepper to taste
1 tablespoon vegetable oil
1 medium onion, sliced (optional)
handful fresh mushrooms, sliced (optional)
2-3 cloves garlic, minced or crushed
1/8 teaspoon dried pepper flakes or red pepper powder
3 tablespoons Red wine (or cooking wine)
1 tablespoon Soy sauce
2 teaspoons Balsalmic vinegar
1 teaspoon honey
1 tablespoon butter
Once the steak has cooked, you need to work fast to finish this dish. For best results, assemble and measure out all ingredients before cooking! Pat steak dry. In large skillet, heat oil over medium-high heat and cook steak (I cook 3/4" steaks for about 4 minutes each side to achieve a doneness of medium). Once cooked to desired doneness, lightly season with salt and ground pepper, then transfer steak to a platter and keep warm. Pour off most of the drippings from the skillet. Add onion, if desired, and saute over moderate heat for several minutes. Add mushrooms, if desired, and saute for a few more minutes. Add garlic and red pepper flakes/powder; saute for 10 seconds. Add wine and boil a few seconds until almost all liquid is evaporated. Add Soy sauce, vinegar and honey. Bring to a simmer, stirring. Add butter and stir over low heat until melted. Spoon sauce over steak and serve. Serves 2.

Meatloaf
Submitted by: LisaW
1 (4 ounce) can chopped green chiles, drained and divided
1/4 cup regular oats, uncooked
1 egg
2 tablespoons catsup
1 teaspoon chopped onion
1/4 teaspoon chili powder
1/4 teaspoon salt
1/2 pound ground beef
1/3 cup catsup
1 teaspoon minced onion
dash of garlic powder
1/4 cup shredded Cheddar cheese
Combine 2 tablespoons chopped chiles and next 6 ingredients; stir well. Add ground beef and stir just until blended. Shape mixture into two (4 x 2-inch) loaves. Place in an 8-inch square baking dish. Bake at 375°F for 20 to 25 minutes. Combine catsup, remaining chopped chiles, minced onion and garlic powder in a small saucepan. Cook over low heat 3 to 5 minutes or until thoroughly heated. Spoon sauce over cooked loaves; sprinkle with cheese. Makes 2 servings.

Hamburger Casserole
Submitted by: LisaW
1/2 small onion
1 tablespoon Olive oil
1/4 pound ground beef
1 small tomato, peeled and cut up
1/4 green bell pepper, chopped
1/2 stalk celery, chopped
salt and pepper to taste
1/2 teaspoon sweet basil
1/2 small zucchini, thinly sliced
Chop onion. Cook in skillet with 1 tablespoon Olive oil. Add hamburger to onion and brown to taste. Add tomato. Add pepper and celery. Season to taste with salt and pepper and 1/2 teaspoon sweet basil. Fry until almost cooked. Add zucchini, sliced thin. Barely heat through. Serve with cooked rice. Makes 2 medium servings.

To submit your favorite recipes to be included in the Garden of Friendship Recipe Book, please email them to Barbiel
Background graphics made especially for the Recipes Committee of the Garden of Friendship by Valatine