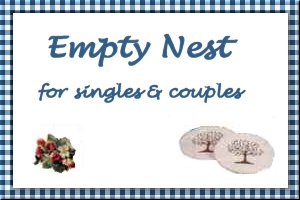 Havana Style Eggs for Two
Submitted by: SueW
4 large eggs
2 tablespoons salted butter
salt to taste
fresh ground black pepper to taste
1/2 tablespoon finely chopped parsley, for garnish
Sauce (recipe below)
Sauce:
1/8 cup pure Spanish olive oil
1/2 small onion, finely chopped
1/2 small green bell pepper, finely chopped
1 clove of garlic, finely chopped
1/2 cup tomatoes, canned, drained and chopped
(or prepared tomato sauce)
1/4 cup pimiento, drained and finely chopped
1 tablespoon dry sherry
salt to taste
fresh ground black pepper to taste
In a medium-size skillet over low heat, heat the oil until it is fragrant, then cook the onion, bell pepper, and garlic, stirring, until tender, 4 to 5 minutes. Add the tomatoes, pimientos, and sherry, cook until thickened, about 10 minutes, and season with salt and pepper. Lightly oil 2 ramekins or au gratin dishes and divide the sauce among them. For each dish, break two eggs into a saucer, slide them on top of the tomato mixture, and drizzle with 1 tablespoon melted butter. Bake in a 350°F preheated oven until the whites are set and the yolks are still soft, 10 to 12 minutes. Sprinkle with salt, pepper, and parsley, and serve immediately from the baking dishes. Serves 2.

German Pancakes
Submitted by: Barbiel
2 eggs
1/8 teaspoon salt
1/4 cup flour, unsifted
4 cups milk
1/4 tablespooon sugar
1/8 lb butter
powdered sugar
Preheat oven to 450°F. Lightly beat eggs with salt. Gradually add flour to milk, blending until smooth. Add this mixture and the sugar to the eggs and blend well. Place the butter into the cast iron skillets and place them into the oven until butter melts. Brush butter up sides of skillet(s). Add the batter to the pan and bake for 15 minutes, or until the pancakes rise and puff and are lightly browned. Lower the temperature to 400°F if pancakes are browning too fast. Sprinkle with powdered sugar and serve immediately with one or more of the toppings suggested below. Serves 2.
Topping Suggestions:
Fruit jam, fresh berries, sliced fresh fruit, sour cream, applesauce, sugar and cinnamon.
Note: An Apple Pancake is served with warmed Fried Apples (like Cracker Barrel's) /Apple Pie Filling inside the middle.
The German Pancake is served with the powdered sugar sifted over the middle and fresh squeezed lemon juice squirted on top of that. When served, just take a butter knife and spread the powdered sugar and lemon juice out over the rest of the middle of the the middle of the pancake.

Broccoli Quiche
Submitted by: Barbiel
1/4 cup fresh broccoli florets
1/8 chopped onions
1/4 cup sliced fresh mushrooms
1 egg, beaten
1/8 cup half and half
1/2 cup cooked rice
1/2 ounces Swiss cheese, shredded
1/2 ounces Cheddar cheese, shredded
1/8 teaspoon seasoned salt
dash cayenne pepper
Balsamic vinegar (optional)
tomato rose for garnish (optional)
Combine broccoli, onions and mushrooms in greased 10-inch microproof quiche dish or pie plate. Cover and cook on high (maximum power) 5 minutes. Blend eggs and half and half in medium bowl. Add rice, cheeses, salt, pepper and Balsamic vinegar. Stir. Pour mixture over vegetables. Stir gently. Cook uncovered on medium (50% power) 9 to 11 minutes or until quiche is set. Let stand 10 minutes. Garnish with tomato rose. Makes 2 servings.

To submit your favorite recipes to be included in the Garden of Friendship Recipe Book, please email them to Barbiel
Background graphics made especially for the Recipes Committee of the Garden of Friendship by Valatine