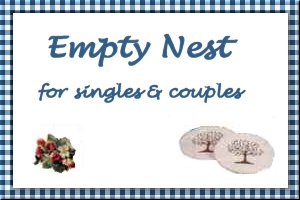 Baked Chicken 'n' Potatoes
Submitted by: Cathie
1 chicken breast, halved
1 or 2 potatoes, peeled & sliced in half
Olive oil, for brushing
Onion powder
Garlic powder
Salt
Pepper
Grated parmesan cheese
Place chicken halves and potatoes in small baking dish. Brush with olive oil. Sprinkle onion powder, garlic powder, salt and pepper. Top all with Parmesan cheese. Bake 350 degrees 1 - 1 1/2 hours. Serve with fresh vegetable.

Cashew Chicken
(Low Fat and Fast Too!)
Submitted by: Cathie
(found in an old recipe tin)
1 boneless, skinless chicken breast
12 snow peas
3/4 cup broccoli flowerets
1/4 cup sliced mushrooms
1 small onion
1/2 cup chicken broth
1 tablespoon + 1 1/2 teaspoons low-sodium soy sauce
1 tablespoon cornstarch
1 teaspoon oil
A little less than 1/4 cup dry roasted cashew nuts (peanuts may be substituted)

Slice chicken into 1-inch square pieces. Remove the ends and strings from snow peas. Chop broccoli into bite-size pieces. Mix together soy sauce and cornstarch. Arrange all ingredients at the table with electric frying pan or wok. Add oil to pan. Add chicken and cook quickly, turning until it turns opaque. Add snow peas, broccoli, mushrooms and onions; pour in broth. Cover and simmer 3 minutes. Stir the soy sauce mixture into the pan juices and cook until sauce is thickened, stirring constantly, then simmer 2 minutes. Sprinkle in nuts. Serve with cooked rice.

Ranch Style Chicken
Submitted by: Cathie
(found in a 1987 Corn Crib Cooking from Elaine, Lancaster MA)
1/2 cup Bisquick
Garlic salt to taste
Paprika for color
Milk for dipping
1 boneless skinless chicken breast
Oil for bottom of baking pan
1 small can peach halves

Cut chicken into quarters. In a shallow pan, cover bottom with oil. Mix Bisquick, garlic salt and paprika. Dip chicken in mixture; then roll chicken in oil. Bake 1 hour at 400 degrees. Place drained peach halves on top of meat during the last 15 minutes of baking.

To submit your favorite recipes to be included in the Garden of Friendship Recipe Book, please email them to Barbiel
Background graphics made especially for the Recipes Committee of the Garden of Friendship by Valatine