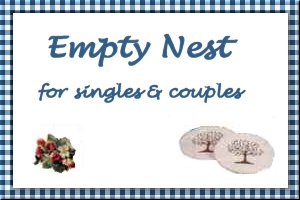 Chicken Con Queso
Submitted by: Susan
2 1/2 cups cooked chicken, cut in bitesize pieces
1 can condensed cream of chicken soup
1 cup sour cream
1 small can chopped green chilies
1 cup each: grated Monterey jack and Colby cheese
1 bag of tortilla chips
Cover the bottom of an 8 x 8 dish with the tortilla chips. Mix the first four items together and pour over the tortilla chips. Top with the grated cheeses. Bake at 325 degrees for 30 minutes or until cheese melts. Serve with a side of Spanish rice and refried beans.
Note: This recipe is great tasting with very little effort. Best of all, it can be made with low-fat ingredients to help keep the fat content to a minimum.

Paella for Two
Submitted by: Granny
2 boneless chicken breasts
2 strips lean bacon
2 tablespoons oil
1 onion, chopped
2 cloves garlic (finely chopped or mashed)
1 tomato peeled and cut in wedges
1 red or green bell pepper cut into strips
3/4 cup rice washed
1 1/2 cups chicken stock (water with a chicken stock cube can be used)
Salt and pepper to taste
1/2 cup fresh or frozen peas
Cut chicken breasts into strips. Remove rind from bacon and cut into strips. Heat oil in frying pan and gently cook chopped onion for about 3 minutes. Add chicken, bacon and garlic and cook, turning several times until chicken is a little browned. Remove chicken, add tomato and pepper strips, cook a further 2-3 minutes. Add rice and cook, stirring until rice is well coated with oil. Add chicken stock and return chicken to the pan, season with salt and pepper and cook gently with the lid on the pan for about 10 minutes. Add green peas and cook until the peas are tender.
NOTE: Saffron is used to flavour the rice in all good paellas and if you have some and would like to use it, sprinkle a little saffron on top of the chicken stock before adding to the other ingredients. This recipe can also have the chicken substituted with prawns, pork, beef strips or whatever takes your fancy. Experiment! Ole`

Oven BBQ Chicken
Submitted by: Brenda
3 chicken breast halves
1 small onion, sliced
1 12-ounce bottle chili sauce
1 8-ounce can tomato sauce
1 tablespoon Worcestershire sauce
1/2 teaspoon dried oregano
Pepper to taste

Brown chicken on all sides. Transfer to a greased baking dish; top with onion. Combine chili sauce, tomato sauce, Worcestershire sauce and oregano; pour over chicken. Sprinkle with pepper. Bake uncovered at 350 degrees for 45-60 minutes. 2-3 servings.

To submit your favorite recipes to be included in the Garden of Friendship Recipe Book, please email them to Barbiel
Background graphics made especially for the Recipes Committee of the Garden of Friendship by Valatine