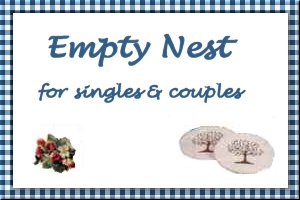 Low Fat Chicken and Broccoli Alfredo
Submitted by: Sugie
6 ounces fettuccini
1/2 pound fat free chicken tenders
3/4 cups onion, chopped
1 1/4 cups mushrooms, sliced
1/2 can fat free chicken broth
1/2 cup fat free cream cheese, softened
10 ounces fresh or frozen broccoli florets
1/2 teaspoon white pepper
Prepare fettuccine according to package directions; drain and keep warm. Lightly spray a non stick skillet with non fat cooking spray and heat over medium high heat. Add chicken tenders and cook until no longer pink and is cooked through; remove chicken from skillet and set aside. Lightly respray the skillet, sauté onions until soft and transparent, about 5 minutes. Add mushrooms and continue cooking until mushrooms are tender. Stir in chicken broth and cream cheese; heat over medium high heat until mixture almost comes to a boil and thickens. Add chicken, broccoli, and pepper to skillet; cook over medium heat until heated through. Toss with fettuccine and serve immediately. Serves 2.

Parmesan Crusted Chicken
Submitted by: CajunSue
1/2 cup plain Bread Crumbs
1 tablespoon flour
1/8 Kraft Parmesan Cheese
1/2 cup milk
3 (1/2") Thick Pieces of Chicken Breast Strips
(chicken tenders)
vegetable oil ( frying )
1 cup dry Bowtie Pasta
1 tablespoon Butter
1 1/2 tablespoons Olive oil
1 tablespoon crushed garlic
1/4 cup white wine (Chablis)
1/8 cup water
1 tablespoon flour
1/2 cup Half and Half
1/8 cup sour cream
1/4 teaspoon salt
1/8 teaspoon basil leaves
1/2 cup mild Asiago cheese (finely grated)
Garnish (see recipe below)
Prepare pasta according to package directions. Wash and drain chicken strips. Mix breadcrumbs, flour and Parmesan cheese together. Place milk in dish for dipping. Dip chicken in breadcrumb mixture and then in milk and then back in breadcrumbs. Place in fry pan that the oil has bee heated and fry at medium to medium low temperature until golden. Remove and drain chicken. In a saucepan on medium heat, melt butter, add olive oil. Whisk in flour until mixture is blended. Quickly add garlic, water, and 1/2 teaspoon of salt stir well. Add wine and blend. Immediately add half and half and sour cream stir. When mixture is smooth add grated cheese stir until melted. Finally sprinkle fresh basil in the sauce and stir lightly and remove from heat. Serves 2.
Garnish with:
2 broccoli florets (lightly steamed)
1 white mushroom (quartered lightly steamed)
1/8 teaspoon crushed red pepper
Place 2 cups pasta in individual a pasta dish. Spoon about 1/2 - 3/4 cup sauce over pasta, add broccoli and mushrooms. Place Parmesan Chicken on pasta and sprinkle red crushed pepper and add grated Parmesan cheese if desired.
Note: I used frozen (unthawed) cooked shrimp in this dish. It was super easy and delicious.

Chicken Dijon
Submitted by: Merribuck
2 to 4 boneless chicken breasts
your favorite mustard
sour cream, well mixed
pepper and salt to taste
Place chicken breasts in shallow roasting pan. Coat chicken breasts with the mustard. Cover the mustard with sour cream and place in oven at 350°F (175°C) and cook for about 45 minutes or until the sour cream browns. Serves 2.
Note: Fairly quick and easy to prepare. It is real good on a bed of rice with broccoli or cauliflower as a veggie. Some have tried a shortcut by mixing the mustard up in the sour cream before putting it on the chicken but it doesn't taste right. I wouldn't suggest it.

To submit your favorite recipes to be included in the Garden of Friendship Recipe Book, please email them to Barbiel
Background graphics made especially for the Recipes Committee of the Garden of Friendship by Valatine