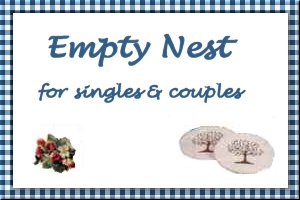 Chicken and Bowties
Submitted by: Cricket
1 whole chicken breast, boneless, trimmed and cut into 1 inch strips
1/2 cup flour
4 large cloves garlic, minced
1/2 lb Bow Tie Pasta
1 small red pepper, cut into thin strips
3 tablespoons unsalted butter
14 oz can chicken broth
4 tablespoons olive oil
1 chicken bouillon cube
4 tablespoons parmesan cheese
1 large handful of stemless spinach
pepper to taste
splash of Madeira wine
Bring an 8 quart pan of salted water to a boil for the pasta. Dredge strips of chicken in the flour and saute until golden brown in olive oil. Add garlic and red peppers, cook until golden brown. Add chicken stock, bouillon cube and spinach, bring to a boil. Knead the 3 tablespoons of butter into the flour to form 3 dough balls. Add to boiling mixture whisking constantly to thicken and prevent lumps. Cook pasta to al dente, drain and add to sauce. Add parmesan cheese and fold. Serves 2.

Orange Chicken
Submitted by: KatjaGirl
1 Fryer about 2 lbs, quartered, skin removed
1 teaspoon fresh basil
1 tablespoon orange rind
3 tablespoons orange juice
3 tablespoons lemon juice
1/2 cup Ginger Ale
Rub chicken with basil and grated orange rind. Combine remaining ingredients and set aside. Brown on all sides in a non stick pan sprayed with vegetable spray. Place into a shallow pan and pour liquid over chicken and cover with foil and bake at 400°F for 30 minutes. Serves 2.

Orange Duck
Submitted by: CajunSue
1 duck
8 tablespoons olive oil
1 cup dry white wine
3 oranges
salt to taste
Take away the fat you can see from your duck and wash. Season with salt the inside of the duck. Put in a saucepan with olive oil and brown all over. Then add wine and some water; cook, covered, slowly for about 45-60 minutes, according to the duck size. Season with salt. Meanwhile peel an orange and, with a little sharp knife, eliminate all trace of the white pith. Cut into little strips and boil for some minutes. Drain very well. Squeeze the other 2 oranges and add their juice to the duck with the boiled little strips. Let it simmer until well reduced. Serve hot. Makes 2 servings.

To submit your favorite recipes to be included in the Garden of Friendship Recipe Book, please email them to Barbiel
Background graphics made especially for the Recipes Committee of the Garden of Friendship by Valatine