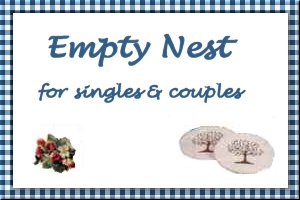 Southern Fried Chicken
Submitted by: PrayingBear
1 1/2 cups all-purpose flour
1 1/2 teaspoons seasoned salt
1 1/2 teaspoons garlic powder
1 1/2 teaspoons onion powder
1 1/2 teaspoons coarse ground black pepper
1 egg
2 cups buttermilk
1/2 cup barbeque sauce
1 tablespoon Worcestershire sauce
1 1/2 teaspoons steak sauce
1/2 whole chicken, cut into pieces
1 cup oil for frying
In a large shallow dish, mix together flour, seasoned salt, garlic powder, onion powder, and black pepper. In a separate bowl, beat eggs, then whisk in buttermilk, barbeque sauce, Worcestershire sauce, and steak sauce. Dredge chicken in milk mixture, then in seasoned flour, alternating in each at least twice. Heat oil in a large, deep-sided skillet to 375°F (190°C). Cook chicken in hot oil until golden brown on both sides, about 10 minutes each side. Serves 2.

Chicken Valdostana
Submitted by: Ginadapooh
2 (8-ounce) boneless skinless chicken breasts
1/2 cup all purpose flour
1/2 teaspoon butter
salt and pepper
2 slices prosciutto ham
2 slices fontina cheese
1/2 cup dry Vermouth
1/2 cup tomato sauce
3 tablespoons heavy cream
Coat chicken breast in flour, then saute chicken in 1/2 teaspoon of butter for about 4 minutes on each side. Add salt and pepper to taste. Cover chicken with prosciutto and cheese. Pour Vermouth over chicken and reduce until Vermouth evaporates. Add tomato sauce and bring to boil. Add heavy cream and blend together.. Makes 2 servings.
Note: Serve over rice pilaf or your favorite pasta.

Feta-Stuffed Chicken
Submitted by: Ginadapooh
2 chicken breast without skin (8 ounces)
4 tablespoons panko (dried bread crumbs)
4 tablespoons feta cheese
1 teaspoon margarine, melted
Place each breast half between heave duty plastic wrap; flatten to 1/4-inch thickness, using meat mallet or rolling pin. Dredge chicken in panko. Spoon 1 tablespoon of cheese onto each piece of chicken, and fold chicken in half. Place folded breast halves in an 8-inch square baking dish coated with cooking spray. Drizzle margarine over chicken. Bake at 400°F for 25-35 minutes or until done. Serves 2.

To submit your favorite recipes to be included in the Garden of Friendship Recipe Book, please email them to Barbiel
Background graphics made especially for the Recipes Committee of the Garden of Friendship by Valatine