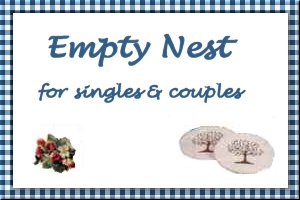 Braised Chicken with Pasta
Submitted by: Merribuck
2 boneless, skinless chicken breasts
2 sprigs of fresh rosemary or a teaspoon dried
2 carrots sliced for stir fry
1 rib celery sliced for stir fry
1 yellow onion sliced for stir fry
1/2 cup chicken stock
1 pat butter or roasted red pepper butter (mo-bettah)
3 tablespoons cream
Pasta undercooked one minute and drained
salt and pepper to taste
Sprinkle chicken breasts with salt and pepper on both sides. Sear chicken in 1 tablespoon Olive oil until carmelized (about 2 minutes a side). Remove to platter. Add vegetables and saute until onions turn opaque. Return chicken to pan, placing on top of vegetables. Add chicken stock. Top each breast with a rosemary sprig or sprinkle dried rosemary over the top. Cover and braise for 5 mintues. Remove chicken to platter. Add drained pre-cooked pasta, cream and butter. Toss and finish cooking the pasta for approximately one minute. Serve with Roasted Red Pepper Butter. Makes 2 servings.
Roasted Red Bell Pepper Butter
1 red bell pepper
1 pound salted butter, at room temperature
1/4 cup basil leaves
2 tablespoons lemon juice
1/2 teaspoon freshly ground pepper
Roast the red peppers whole over a gas or charcoal flame, or under a broiler, turning every few minutes until entirely blackened. Immediately place in a paper bag. Seal bag and let sit for 3 minutes. Peel off the charred skin and discard. Slice the peeled peppers open and discard the membranes and seeds. In a food processor, puree the bell peppers, butter, basil, lemon juice, and pepper. Transfer to a loaf pan that is lined with plastic wrap. Refrigerate for approximately 1 hour, or until butter hardens. To serve, remove from plastic wrap. Use leftover butter on fish, veggies, bread, corn on the cob, etc.
Note: If using Roasted Red Pepper Butter lightly skim the top of each breast just before serving.

Grilled Chicken Ceasar
Submitted by: Merribuck
2 chicken breasts
your favorite Caesar dressing
1 head romain lettuce
crutons (home made or store bought)
salt and pepper to taste (optional)
Parmesean cheese
Marinade chicken breasts in ceasar dressing for 1/2 hour. While chicken is marinading take 1/2 loaf of stale bread (if you are making your own croutons) and slice into 1/4 inch slices. Rub each slice with a clove of garlic on both sides and sprinkle lightly with your favorite herb (I use taragon). Cut into bite size pices and place on a cookie sheet. Drizzle olive oil over bread and gently toss making sure croutons end up in a single layer. Bake at 350°F until golden, turn and repeat. Remove chicken from marinade and pat dry. Grill until cooked through. Remove and place on platter and allow to cool. Wash lettuce and tear into manageable pieces. Pat dry with paper towels or place in salad spinner. Place lettuce in large bowl. Take cooled chicken and slice into attractive strips approximately 1/4 inch thick. Place on top of lettuce. Toss with ceasar dressing until well distributed. Sprinkle croutons on top and dress entire salad with a generous sprinkle of a good Parmesean cheese. Serves 2.
Note from Merribuck: This is also delicious with salmon.

Chicken Asparagus
Submitted by: Merribuck
1 package (1 1/4 oz.) Hollandaise sauce mix
1 pound boneless chicken breasts, cut into strips
2 teaspoons lemon juice
1 box (10 oz.) Birds Eye frozen Asparagus
dash Cayenne pepper
salt to taste (optional)
Prepare Hollandaise sauce according to package directions. (I make my own) Sautee chicken strips for 10 to 12 minutes or until browned, stirring occasionally. Add Asparagus, lemon juice and Cayenne pepper, stirring approximately until Asparagus is heated through (of course, I use fresh Asparagus). If necessary, proof seasoning (salt and pepper). Toss over Basil pasta. Serves 2 (but can serve 4 in a pinch).

To submit your favorite recipes to be included in the Garden of Friendship Recipe Book, please email them to Barbiel
Background graphics made especially for the Recipes Committee of the Garden of Friendship by Valatine