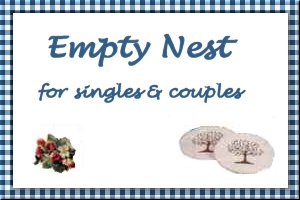 Chicken Paillard
Submitted by: Merribuck
4 small whole chicken breasts or 2 large
extra-virgin Olive oil, for drizzling, plus 2 tablespoons
4 sprigs fresh thyme, stripped and finely chopped (2 tablespoons)
2 tablespoons fresh chopped flat-leaf parsley
1 lemon zested and juiced
coarse salt and black pepper to taste
2 tablespoons butter
2 tablespoons all-purpose flour
2 cups chicken stock or chicken broth
1 sack (5 ounces) mixed baby salad greens
Preheat a large nonstick skillet over medium high heat. Arrange the chicken in a shallow baking dish and drizzle meat with extra-virgin Olive oil to just coat the chicken, about 1 1/2 tablespoons, total. Combine chopped herbs and lemon zest and sprinkle over the chicken. Season the chicken with salt and pepper. Using your hands, rub the chicken and coat evenly with the herbs and seasonings. Wash hands with hot water and soap. Using tongs, transfer chicken in a single layer to hot skillet and cook chicken cutlets 3 or 4 minutes on each side. Cover cooked chicken loosely with foil to keep warm and repeat with remaining cutlets. Return pan to heat and add butter. When the butter melts, add flour to the butter and cook, stirring with whisk, a minute or 2 to make a light roux. Whisk in chicken broth. When broth thickens to just coat the back of a spoon, remove pan from heat and turn off burner. Toss salad greens with lemon juice and coarse salt. Drizzle 2 tablespoons extra-virgin Olive oil around the bowl and re-toss greens. To serve, cover the bottom of a dinner plate with warm sauce. Top with a small pile of salad greens and 2 chicken cutlets. Makes 2 servings.

Pollo Fajitas
Submitted by: Lady Lynda
1 1/4 teaspoons Worcestershire sauce
1 1/4 teaspoons cider vinegar
1 1/4 teaspoons soy sauce
1/2 teaspoon chili powder
3/8 clove garlic, minced
3/8 dash hot pepper sauce
10 ounces boneless, skinless chicken thighs, cut into strips
1 1/4 teaspoons vegetable oil
3/8 onion, thinly sliced
3/8 green bell pepper, sliced
1/4 lemon, juiced
salt to taste (optional)
In a medium bowl, combine Worcestershire sauce, vinegar, soy sauce, chili powder, garlic and hot pepper sauce. Place chicken in sauce, and turn once to coat. Marinate for 30 minutes at room temperature, or cover and refrigerate for several hours. Heat oil in a large skillet over high heat. Add chicken strips to the pan, and saute for 5 minutes. Add the onion and green pepper, and saute another 3 minutes. Remove from heat, and sprinkle with lemon juice. Serve with warm flour tortillas, salsa and sour cream.

Smoked Duck with Horseradish Potato Salad
Submitted by: Barbiel
1 packet of smoked duck
2 medium white potatoes
2 tablespoons of Mayonnaise
1 teaspoon of horseradish
1 tablespoon of chopped parsley
1 Satsuma (See Note)
30g salad leaves
Vinaigrette (recipe below)
Peel the potatoes and cut them into small cubes. Place them in a saucepan of water with a good pinch of salt. Put the saucepan on the stove and bring the water to the boil. Be careful, once the potatoes are boiling they will not take long to cook, only around 10 minutes. Check them regularly. Take a cube out and try. They must retain cooked but firm texture, don't let them cook to mush. Once the potatoes are ready, run them under cold water to stop them cooking. Then drain them, shake off the excess water and put them in a bowl. Now add the mayonnaise and horseradish cream and mix well. Season. Chop the parsley as finely as you can and add to the potato salad. Peel the Satsuma and separate the segments. Place a plastic ring in the centre of the plate, pack the potato salad into it firmly and remove the ring. Push three segments of satsuma into the salad (see photo). Now open the duck and carefully arrange a few slices on top of the potatoes. Place a few leaves of salad on top of the duck (use salad straight from the packet). Give the Vinaigrette a good shake and spoon it around the dish. Serve immediately.
Vinaigrette:
3 tablespoons of Olive oil
1 tablespoon of white Wine vinegar
1 teaspoon honey
thyme, salt and pepper
Put salt, pepper, vinegar and thyme leaves in a jar and add a teaspoon of honey. Give it a good shake. Add the oil and repeat. Adjust seasoning to your taste (more honey, pepper, etc).
Note: In the United States, satsumas are most frequently marketed as tangerines.

To submit your favorite recipes to be included in the Garden of Friendship Recipe Book, please email them to Barbiel
Background graphics made especially for the Recipes Committee of the Garden of Friendship by Valatine