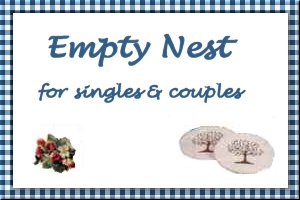 La Crema
A light flavorful dessert
Submitted by: Kathie
1/4 cup sugar
2 tablespoons cornstarch
2 egg yolks
1 1/2 cups hot milk
1 orange rind, grated
1 teaspoon vanilla
Cinnamon to taste

Mix together the sugar and cornstarch, and add the egg yolks on by one, beating with each addition. Continue beating until light and smooth. Use an electric hand beater, or food processor. Gradually add the hot milk, mixing well. Add the grated orange rind. Cook over very low heat, stirring often until mixture is thick and creamy. Stir in the vanilla. Pour into glass dish. Cover, refrigerate until cold, and sprinkle with cinnamon or pink sugar to taste. In summer, top the cold Crema with cold sweetened strawberries or raspberries. Serves 2-3.

Lemon Pudding Cake
Submitted by: Brenda
1 egg, seperated
1/2 cup sugar
1/3 cup milk
2 tablespoons flour
2 tablespoons lemon juice
1 teaspoon grated lemon peel
Dash of salt
Whipped cream, optional
Beat egg yolk. Add sugar, milk, flour, lemon juice, peel and salt; beat until smooth. Beat egg white until stiff peaks form; gently fold into lemon mixture. Pour into 2 ungreased 6-ounce custard cups. Place the cups in an 8-inch square baking dish. Pour boiling water into pan to a depth of 1 inch. Bake at 325 degrees for 40-45 minutes, or until a knife inserted in center comes out clean and top is golden. Serve with whipped cream. Serves 2.

Chocolate Cake
Submitted by: Brenda
CAKE:
2 1-ounce squares unsweetened chocolate, melted
1/2 cup boiling water
1 cup sugar
1/2 cup shortening
1 egg
1/2 teaspoon vanilla
1 cup flour
1/2 teaspoon baking soda
1/2 teaspoon salt
1/4 cup sour milk*
FROSTING:
1 1/2 cups sugar
1/3 cup milk
2 1-ounce squares unsweetened chocolate, melted
2 tablespoons shortening
1 tablespoons light corn syrup
Dash of salt
2 tablespoons butter or margerine
1 teaspoon vanilla

In mixing bowl, stir chocloate and water until blended. Add sugar, shortening, egg and vanilla; mix well. Combine flour, baking soda and salt; gradually add to the chocolate mixture alternately with sour milk. Pour into a greased 8-inch baking pan. Bake at 350 degrees for 30-45 minutes. Cool completely. For frosting, combine the first six ingredients in a saucepan; bring to a boil. Boil for 2 minutes, remove from heat. Set pan into a larger pan of ice water. Beat for 1 minute. Add butter and vanilla. Beat until frosting is desired spreading consistency, up to 10 minutes. Frost cake. Serves 4.
Note: *To sour milk, place 1 teaspoon white vinegar in a measuring cup; add milk to equal 1/4 cup.

To submit your favorite recipes to be included in the Garden of Friendship Recipe Book, please email them to Barbiel
Background graphics made especially for the Recipes Committee of the Garden of Friendship by Valatine