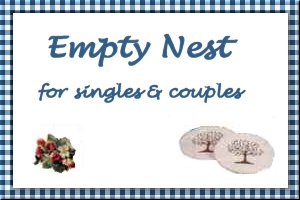 Trifle for Two
Submitted by: Cathie
1 3-ounce package cream cheese, softened
4 teaspoons instant cappuccino powder
(any instant coffee flavor)
2 teaspoons sugar
1 cup whipped topping
2 slices pound cake or cake of your choice, cut into cubes
1/4 cup semisweet chocolate chips
additional whipped topping and chocolate chips
(optional)

In a mixing bowl beat cream cheese, coffee powder and sugar until smooth. Beat in whipped topping until blended. Divide cake cubes between two dessert dishes; top with the cream cheese mixture and chocolate chips. Garnish with additional whipped topping and chocolate chips if desired. Yield: 2 servings.

Chocolate Mousse
Submitted by: Barbiel
2 egg yolks
3 squares (6oz) semisweet chocolate
1/4 cup water
1/2 cup heavy cream
1 1/2 tablespoons confectioner's sugar
1/2 teaspoon vanilla extract
semisweet chocolate shavings for garnish
In a small bowl, lightly beat the egg yolks. In a saucepan, melt the chocolate with water, stirring until smooth. Add 3 tablespoons of chocolate mixture to the egg yolks, then pour mixture back into the pan with the remaining chocolate. Cook over low heat, stirring until thickened, about 1 minute. Transfer to a new bowl and let cool for 15 minutes. Mix the cream, sugar, and vanilla with a mixer on high speed until soft peaks form. Transfer 1/2 cup of mixture to a small bowl and refigerate. Fold the remaining mixture into the chocolate mixture. Spoon into 2 dessert cups. Refrigerate until firm (2 hours). Spoon refrigerated cream mixture onto mousse before serving and add chocolate shavings as garnish.

Covered Strawberries
Submitted by: Barbiel
1 cup semi-sweet chocolate chips
1/2 cup milk chocolate chips
1 tablespoon shortening (do not use butter, margarine or oil)
2 pints fresh strawberries, rinsed and patted dry
Cover tray with wax paper. Place chocolate chips and shortening in a medium microwave safe bowl. Microwave at high for 1 minute. Stir. If necessary, microwave an additional 30 seconds or until chips are melted and mixture becomes smooth when stirred vigorously. Do not over heat. Holding the strawberry by the top, dip the bottom 2/3 of each strawberry into melted mixture. Shake gently to remove excess chocolate. Place on prepared tray. Cover and refrigerate approximately 1 hour, or until coating is firm. Serves 2.
Note: You can substitute all semi-sweet or all milk chocolate according to your own tastes.

To submit your favorite recipes to be included in the Garden of Friendship Recipe Book, please email them to Barbiel
Background graphics made especially for the Recipes Committee of the Garden of Friendship by Valatine