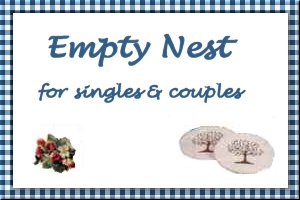 Sorbet in Phyllo with Fresh Raspberries
Submitted by: Cricket
1 small tub good quality raspberry sorbet
3-17 by 12 inch phyllo sheets, thawed if frozen,
(stacked between 2 sheets waxed paper and covered with a towel)
1/2 cup fresh raspberries
mint sprigs for garnish
cooking spray in "butter" flavor
4 small porcelain ramekins
Preheat oven to 350°F. Take the first sheet of phyllo, spray with cooking spray, and repeat until all sheets are stacked on top of each other. Cut until a 6 in. long square is produced. Stack all sheets of dough, spraying between layers. Invert the 4 ramekins, place on top of a cookie sheet. Gently drape the phyllo squares over top of the ramekin bottoms, very gently pressing down. You want the shape of the ramekin to be produced during the baking process. Place the ramekins/phyllo into the oven and bake approximately 15 min. until lightly golden. Allow the pastry to cool to room temperature and gently remove the ramekins. Scoop out the sorbet and artfully place into the phyllo cups. Decorate with raspberries and mint garnish. Makes 2 servings.

Fresh Summer Fruit Salad
Submitted by: LisaW
2 cups sliced fresh peaches, nectarines, plums, and/or apricots
(pitted and sliced )
1 cup assorted fresh berries, such as halved strawberries,
blackberries, blueberries, and/or raspberries
1 cup 1-inch chunks honeydew or cantaloupe melon
1 cup sweet cherries, halved and pitted
1 to 2 tablespoons fresh lemon juice to taste
1 to 2 tablespoons sugar (optional) to taste
Refrigerate a large glass or serving bowl for 20 to 30 minutes. Add all of the fruit to the bowl, sprinkling with lemon juice to taste. If the fruit needs it, add the sugar and toss well. Makes 2 servings.

Yau Gwok
(Deep Fried Puffs)
Submitted by: Cricket
5 oz plain flour
1 tablespoon grated coconut
1 1/2 tablespoons roasted pounded peanuts
1 tablespoon fried white sesame seeds
1 tablespoon sugar
4 tablespoons vegetable oil
4 tablespoons water
Sift the flour and separate it into two portions. Add the water into one portion and knead till it is a dough. Add the oil to the remaining portion of flour and knead till it is a soft dough. Mix the two doughs together and knead the dough mixture till it is soft. Roll into a thin sheet. Make into round shapes using a pastry cutter. Mix together the coconut, peanuts, sesame seeds and sugar with a little oil and water, place portions on the individual round sheets of dough mixture, fold over to make a crescent shape and seal the sides. Deep fry on a medium heat till golden brown. Drain and serve. Serves 2.

To submit your favorite recipes to be included in the Garden of Friendship Recipe Book, please email them to Barbiel
Background graphics made especially for the Recipes Committee of the Garden of Friendship by Valatine