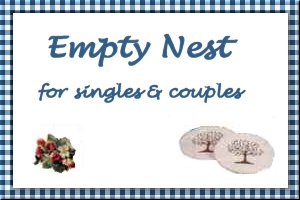 Grilled Banana Split Sundae with Bittersweet Chocolate Sauce
Submitted by: SueW
4 firm, but ripe, bananas, unpeeled
1 tablespoon sugar
1/2 teaspoon cinnamon
8 small scoops best-quality vanilla ice cream
Bittersweet Chocolate Sauce (recipe below)
1/2 cup coarsely chopped pecans or walnuts, toasted
whipped cream (optional)
Maraschino cherries or strawberries (optional)
Build charcoal fire or preheat gas grill. Slice bananas in 1/2 lengthwise and crosswise so each banana yields 4 pieces. Set aside. Mix the sugar and cinnamon, sprinkle on cut sides of bananas. Let bananas sit for 5 minutes. Place bananas cut-side down on a clean cooking grate over direct low heat. Cook for 2 minutes or until grill marks appear. Using a pair of long-handled tongs, turn over and let cook 5 more minutes or until the skin pulls away from the banana. Remove skins from banana halves and place 4 banana halves in the bottom of each serving bowl. Top each serving with 2 scoops of ice cream. Ladle about 1/4 cup of heated chocolate sauce over each sundaeŚlet your taste determine the quantity here, add just a touch for a hint of chocolate or pour it on for a serious chocolate fix. Sprinkle each with 1 tablespoon of chopped nuts, top with whipped cream, and place a cherry or strawberry on top.
Bittersweet Chocolate Sauce
8 ounces bittersweet (70 percent chocolate (chips or chopped block chocolate)
1/3 cup heavy whipping cream
2 tablespoons sweet cream butter at room temperature
2 tablespoons superfine sugar
1/8 cup liqueur (either Kahula, Frangelico or Chambord)
1/2 teaspoon vanilla extract
Make the chocolate sauce up to 2 days in advance. Place chocolate in a medium size metal mixing bowl. Heat cream to almost boiling, add butter and sugar and stir to combine. Remove from heat and pour over chocolate. Whisk vigorously until melted, and well combined. Add liqueur and vanilla and stir constantly until mixture is cool the touch. Cover with plastic wrap and set aside or refrigerate up to 2 days. Warm before serving. Yields 1 cup.

Strawberry Mango Cobbler
Submitted by: Lady Lynda
2 pints fresh strawberries, sliced
2 cups fresh mango, peeled and cubed
1 tablespoon crystallized ginger, chopped
1 cup flour
1/2 cup brown sugar
1/2 cup granulated sugar
1/2 cup oats
1/4 cup butter, melted
1/4 cup lemon juice
In a large bowl, combine fruit, ginger, flour, sugars and oats. Place in a slightly greased 13 x 9 inch baking pan. Sprinkle lemon juice and melted butter over cobbler and cook for 40 minutes at 375░F. Allow to cool and serve with ice cream if desired. Serves 2.
Note: This recipe is very light and just great for hot weather meals.

Applesauce Parfaits
Submitted by: Ginadapooh
applesauce
fat free sour cream
sugar
Gingersnaps
Layer applesauce, fat free sour cream sweetened with sugar, and crushed Gingersnaps in Parfait glasses or dessert dishes. Serves 2.
Note: No ingredient mesure specificated. Just try to find out how many is enough for two ;o)

To submit your favorite recipes to be included in the Garden of Friendship Recipe Book, please email them to Barbiel
Background graphics made especially for the Recipes Committee of the Garden of Friendship by Valatine