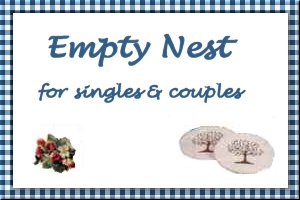 Apricot Poached Pears
Submitted by: Cricket
2 medium pears
1/4 tablespoon lemon juice
1/3 cup water
1/3 cup white wine
1/8 cup sugar
1/3 cup chopped dried apricots
1/4 teaspoon grated orange peel
1/4 cinnamon stick
1/4 tablespoons sliced almonds, toasted

Preheat the oven to 300°F. Peel and core the pears, leaving the stems intact. Combine the lemon juice and 2 tablespoons water in a bowl. Dip the pears in the bowl. Combine the wine, sugar, apricots, orange peel, cinnamon and remaining water in a deep 2 quart baking dish. Arrange the pears, stem end up, in the dish. Bake, covered, for 1 hour or until tender, adding more water if necessary. Let cool in the cooking liquid. Remove to individual dessert dishes, using a slotted spoon. Discard the cinnamon. Pour the cooking liquid into a blender jar or food processor bowl. Process until smooth and thick. Spoon over the pears. Top with the almonds. Makes 2 servings.

Pineapple Mousse with Bananas
Submitted by: LisaW
2 ripe bananas, smashed
1 cup low fat cottage cheese
1 15 ounce can pineapple
1 packet powdered gelatin
2 egg whites
Combine bananas and cottage cheese. Blend until smooth. Drain pineapple, reserving the juice. Add to the banana mixture. Blend until smooth. In a small bowl, add gelatin to 4 tablespoons of reserved pineapple juice. Heat until gelatin is dissolved and add to fruit mixture. In a separate bowl, whisk the eggs until they hold soft peaks. Fold them into the fruit mixture. Tip the mouse into a glass bowl. Chill in the refrigerator until set. Serve with sliced bananas and pineapple. Makes 2 servings.

Vanilla Almond Cookies
Submitted by: LisaW
4 egg whites
8 tablespoons powdered skim milk
1 teaspoon vanilla extract
1 teaspoon almond extract
1 tablespoon sugar or 1 teaspoon (4 packets) sugar substitute
sliced strawberries for garnish
Beat egg whites until stiff. Add skim milk powder. Mix well. Add extracts and sweetener. Lightly spray cookie sheet with cooking oil. Spoondrop onto cookie sheet. Bake at 275°F for 45 minutes. Remove from sheet and dust with cinnamon. Serve with sliced strawberries. Makes 2 servings.
Note: This is a fun recipe to play around with different extracts on hand. Substitute the almond extract with mint or coconut extract.

To submit your favorite recipes to be included in the Garden of Friendship Recipe Book, please email them to Barbiel
Background graphics made especially for the Recipes Committee of the Garden of Friendship by Valatine