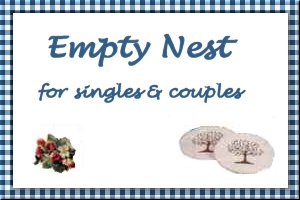 Grilled Peaches and Berries
Submitted by: Barbiel
large ripe peaches
blueberries
brown sugar
lemon juice
Wash, peel and halve the peaches and remove the pit. Place each half on a double thickness of heavy-duty aluminum foil. Fill peach halves generously with fresh or frozen blueberries. Sprinkle 2 teaspoons brown sugar and 1 teaspoon lemon juice on each. Wrap securely. Cook on grill 18-20 minutes, turning once. Serve right out of the foil. Allow 1/2 peach per serving.

German Apple Pancake
Submitted by: LadyGenes
Pancake:
1/2 cup all-purpose flour
1 tablespoon granulated sugar
1/4 teaspoon salt
2 eggs
1/2 cup milk
2 teaspoons butter or margarine, melted
powdered sugar or warm maple syrup (optional)
Apple Filling:
1 small Granny Smith apple
2 teaspoons butter or margarine
1/4 cup packed brown sugar
1 teaspoon cinnamon
Preheat oven to 400°F. Spray small oval pan or small bread pan with nonstick cooking spray. For apple filling, peel, core and slice apple. Cut apple slices into quarters. Melt butter in saute pan over medium heat. Add apple, brown sugar and cinnamon. Cook 20 minutes, or until apple is very tender and most of the liquid has evaporated. Meanwhile, for pancake, combine flour, granulated sugar and salt in mixing bowl. In a small mixing bowl, whisk together eggs, milk and melted butter. Add egg mixture to flour mixture. Whisk until dry ingredients are moistened. (Batter will be slightly lumpy.) Pour batter into small oval pan or small bread pan. Spoon apple mixture evenly over batter. Bake 20-23 minutes or until puffed and golden brown. Remove from oven; sprinkle with powered sugar, if desired. Cut into wedges and serve with maple syrup, if desired.

Fried Apple Rings
Submitted by: De
1 tablespoon butter
1 tablespoon sugar
1 1/2 teaspoons lemon juice
1 tart apple, cored
In a skillet, melt butter. Add sugar and lemon juice. lice 4 rings of apple and place in skillet. Cover and reduce heat. Simmer 10-15 minutes or until apple rings are tender. Turning often. Top with cinnamon and vanilla ice cream for a tasty treat.

To submit your favorite recipes to be included in the Garden of Friendship Recipe Book, please email them to Barbiel
Background graphics made especially for the Recipes Committee of the Garden of Friendship by Valatine