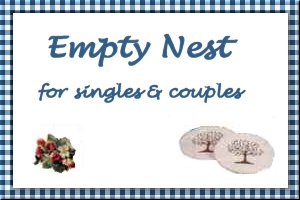 Halibut Italiana
Submitted by: Jezebel Jen
2 8-ounce filets of halibut
5 tablespoons olive oil
Juice of 5 fresh limes
2 teaspoons chopped fresh garlic (or to taste)
2 teaspoons fresh mint
Dash of freshly ground black pepper
Combine olive oil, lime juice, garlic, mint and pepper in a bowl. Blend well. Marinate the halibut in this mixture for 2 hours. Broil or grill for about 4 minutes on each side, brushing with marinade occasionally to prevent fish from drying out. Serve with rice, and a simple green salad.

Baked Trout with Fresh Garden Herbs
Submitted by: Jezebel Jen
2 dressed trout (about 1 3/4 pounds)
Salt and pepper to taste
3 tablespoons chopped fresh parsley
2 tablespoons minced green onions
2 teaspoons minced fresh sage
2 teaspoons chopped fresh chives
1 teaspoon minced fresh rosemary
1 teaspoon minced fresh thyme
1 clove garlic, minced
1/4 cup unsalted butter
lemon wedges

Sprinkle trout with salt and pepper to taste. Combine parsley and next 6 ingredients in a small bowl; stir well. Stuff half of herb mixture in each fish cavity. Place fish in buttered 13x9x2 baking dish, dot fish with butter. Bake at 350 degrees for 20 to 25 minutes or until fish flakes easily. Garnish with lemon wedges.

Crab Pot Stickers with Sesame Ginger Dipping Sauce
Submitted by: Jezebel Jen
1 scallion
6 ounces jumbo lump crab meat
1 tablespoon sesame seeds
1 large egg white
1 teaspoon grated peeled fresh gingerroot
12 won ton or gyoza wrappers, thawed if frozen
cornstarch for dusting plate
1 tablespoon vegetable oil
For dipping sauce:
2 tablespoons soy sauce
1 tablespoon dijon mustard
1 tablespoon honey
1/4 teaspoon sesame oil
1/4 teaspoon grated peeled fresh gingerroot
2 1/2 teaspoons water

Chop scallion and pick over crab meat to remove any bits of shell and cartilage. Break up larger pieces of crab. In a dry small heavy skillet toast sesame seeds with salt to taste over moderate heat, stirring frequently, until golden, about 2 minutes. Transfer seeds to a medium bowl and cool slightly. Add egg white and gingerroot to seeds and lightly beat. Gently stir in crab and scallion and season with salt and pepper. Put 6 won ton wrappers on a dry surface, keeping remaining wrappers in package, and lightly brush edges with water. Mound about 1 tablespoon filling in center of each wrapper. Gather edge of each wrapper up and around filling and form a waist with wrapper (filling should be exposed and level with top of wrapper). Lightly dust a plate with cornstarch and arrange pot stickers in one layer. Make 6 more pot stickers in same manner. In a large nonstick skillet heat vegetable oil over moderately high heat until hot but not smoking and fry pot stickers, flat sides down, until undersides are golden, about 1 minute. Add 1/4 cup water down side of skillet. Cover skillet and steam pot stickers over moderately low heat until cooked through, about 2 minutes. Remove lid and cook pot stickers until any water is evaporated.
Dipping sauce: In a small bowl whisk together all dipping sauce ingredients.
Serve pot stickers with dipping sauce. Serves 2.

To submit your favorite recipes to be included in the Garden of Friendship Recipe Book, please email them to Barbiel
Background graphics made especially for the Recipes Committee of the Garden of Friendship by Valatine