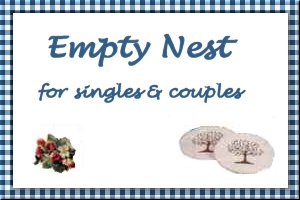 Shrimp with Spinach and Alfredo Sauce
Submitted by: CajunSue
1 tablespoon butter
750 g medium shrimp, peeled, deveined
1 bunch of fresh spinach
(or 10 ounces thawed and squeezed)
1 clove garlic, minced
1 bunch scallions, sliced
(with about 2 inches of the green)
1/2 package dry Alfredo sauce mix
1/2 cup light cream or evaporated milk
pepper to taste
Melt butter over medium low heat; add shrimp, spinach, and scallions. Cook until shrimp is pink, then add garlic and cook for another minute. Sprinkle with Alfredo sauce mix and combine. Add milk or cream; cook until heated through and thickened. Add pepper to taste. Serve over hot cooked rice or pasta. Serves 1 to 2.

Crawfish Sherry Sauce
Submitted by: CajunSue
2 ounces unsalted butter
2 ounces finely chopped onion
2 teaspoon fresh pureed garlic
1 pint heavy cream
4 ounces dry sherry
12 80/90 size crawfish tail meat; more if smaller size
salt and white pepper to taste
pinch of fresh chopped parsley
Start with medium hot skillet. Add butter and melt without burning. Add Onion and cook until transparent, do not brown. Add garlic and sauté for 30 seconds. Add heavy cream, Sherry, salt and pepper. Reduce by 1/3 stirring frequently. Add crawfish and cook additional 1 minute to heat crawfish thoroughly, do not over cook which will make Crawfish tough. Add parsley and serve. Makes 2 servings.

Thyme and Citrus Baked Salmon Filets
Submitted by: Cricket
1/2 teaspoon olive oil
2 (4 oz.) fresh salmon filets
1 teaspoon minced fresh thyme
1/2 teaspoon minced fresh grated orange ring
salt to taste
freshly ground pepper to taste
Preheat oven to 400°F. Put oil on bottom of baking dish and rub salmon in oil. Combine thyme and orange rind and rub over fish. Season to taste with salt and pepper. Bake approximately 15-18 min. until gently firm to the touch. Do not overbake. The fish should be rare to medium rare inside. Serves 2.

To submit your favorite recipes to be included in the Garden of Friendship Recipe Book, please email them to Barbiel
Background graphics made especially for the Recipes Committee of the Garden of Friendship by Valatine