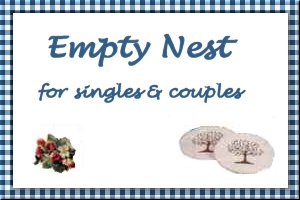 Fish for Two
Submitted by: Cricket
2 (8 ounce) grouper or halibut fillets
2 tablespoons butter or margarine, melted
2 tablespoons lemon juice
1/8 teaspoon lemon-pepper seasoning
1/4 teaspoon garlic salt
paprika
1 green onion, sliced
1 tablespoon chopped fresh parsley
lemon wedges to garnish (optional)
Place fish fillets in a lightly greased 13- x 9- x 2-inch baking pan. Pour melted butter and lemon juice over fish; sprinkle lemon-pepper seasoning and next 4 ingredients evenly over fish. Bake at 350°F for 20 to 25 minutes. Broil 3 to 5 minutes or until fish is lightly browned and flakes easily when tested with a fork. Garnish, if desired. Yield: 2 servings.

Swordfish Kebobs
Submitted by: SueW
Marinade:
3 tablespoons olive oil
1 clove garlic, finely chopped
2 tablespoons chopped cilantro
2 tablespoons lime juice
salt and pepper to taste
Kebobs:
8 cherry tomatoes
3/4 pound swordfish, cut into 1 1/2 inch pieces
8 ounces pineapple chunks, canned (reserve 1/4 cup juice)
1 green bell pepper, seeded, cut into 1 inch squares
1 red onion, peeled, cut into 1 inch chunks
Combine marinade ingredients and pineapple juice in a large bowl and add swordfish chunks. Let sit for 15 minutes. Soak 8 inch bamboo skewers in water for 15 minutes. Alternate swordfish and remaining ingredients on skewers. Kabobs can be grilled or broiled for 8-10 minutes. Rotate the kabobs for either method and baste with remaining marinade. Serves 2.

Monkfish in Miso
Submitted by: Merribuck
1 tablespoon each of vegetable oil and Oriental sesame oil
1 teaspoon minced ginger
1 teaspoon minced fresh garlic
1/2 pound Shiitake mushrooms, trimmed and thinly sliced
1/2 teaspoon sugar
1 tablespoon Mirin or rice vinegar
1/2 pound monkfish cut into 3/4-inch chunks
1 tablespoon Miso paste dissolved in 1 tablespoon Soy sauce
salt and crushed red pepper flakes
1/2 bunch green onions
1/2 cup chopped cilantro
Heat oils in a skillet or wok. Add ginger and stir fry a few seconds or until you can smell it, add garlic and mushrooms and stir fry a few moments. Add sugar, Mirin and fish. Cover and simmer over low heat until fish is just cooked through (about 5 minutes). Remove from heat and add dissolved miso. Mix well, season to taste with salt and crushed red pepper. Stir in scallions and cilantro. Serve over brown rice. Yield: 2 servings.

To submit your favorite recipes to be included in the Garden of Friendship Recipe Book, please email them to Barbiel
Background graphics made especially for the Recipes Committee of the Garden of Friendship by Valatine