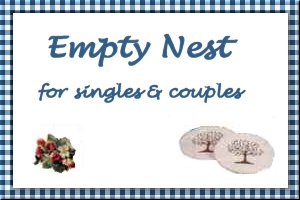 Tea for Two
Submitted by: PrayingBear
2 1/4 cups and 1 tablespoon water
2 tablespoons and 3/4 teaspoon white sugar
2 1/4 tea bags
1/8 (12 fluid ounce) can frozen cranberry juice concentrate
Put water in large pot, and heat on high until boiling. Add sugar and stir until dissolved. Add teabags and let steep until desired strength is acquired. Stir in cranberry juice concentrate, and allow to cool. Makes 2 servings.

Cafe Brulot
Submitted by: Lady Lynda
1/2 orange peel, cut into 1 by 1/8-inch strips
1/2 orange, peel cut into 1 long, intact spiral
1/2 lemon peel, cut into 1 by 1/8-inch strips
2 sugar cubes
3 whole cloves
1/2 (2-inch) cinnamon stick
1/4 cup orange flavored liqueur
1 cup hot, freshly brewed, strong black coffee
Light the burner under a brulot bowl or chafing dish and adjust the flame to low. Into the bowl place the orange and lemon peels, sugar, cloves, cinnamon stick and orange liqueur. Cook for 1 to 2 minutes, stirring constantly with a long-handled ladle, to dissolve the sugar and warm the ingredients. When the mixture is warm, stir in the hot coffee, and ignite with a match. Quickly, while the mixture is still flaming, hold the spiraled orange peel with the prongs of a fork over the bowl, and ladle the flaming coffee mixture down the peel several times into the bowl for a spectacular presentation. Ladle the Cafe Brulot into brulot or demi-tasse cups, being careful to leave the flavorings (peels, cloves, cinnamon) in the bowl. Serve immediately while hot. Serves 2.
Note: The coffee is prepared in and served from a special decorative bowl positioned over a flame, and the finale consists of the flaming coffee being ladled down a long spiral of orange peel back into the bowl. A Brulot ladle is specially designed with a small strainer at the end so that the bits of peel, cloves and cinnamon do not get served to guests. The finished beverage is served in tall, thin, footed mugs, often decorated with a full-length portrait of the devil, reference to the drink's other name, "Cafe Diabolique" or "Devil's Coffee," perhaps so named for the punch it packs!

Spiced Hot Chocolate with Tea
Submitted by: Lady Lynda
1 cup fresh spring water
1/2 teaspoon loose-leaf Earl Grey tea
1/2 teaspoon loose-leaf Darjeeling tea
1/2 star anise
1/2 cinnamon stick
pinch ground ginger
1 cup heavy cream
3 ounces chopped chocolate (recommended: Godiva dark chocolate)
1/2 teaspoon pure Vanilla extract
In a small saucepan, heat water to a boil. Drop in tea leaves, turn off heat, and steep for about 5 minutes. Strain tea back into pan and add star anise, cinnamon stick, ginger, and heavy cream. Heat over medium heat until cream scalds, watching carefully so that cream does not spill over. Put chocolate in a medium bowl. Strain hot cream mixture into bowl with chocolate. Add vanilla and whisk until chocolate is melted. Transfer to mugs and serve warm or chilled. Yield: 2 servings.
Note: The spices may be increased, to taste, if your preference is spicier.

To submit your favorite recipes to be included in the Garden of Friendship Recipe Book, please email them to Barbiel
Background graphics made especially for the Recipes Committee of the Garden of Friendship by Valatine