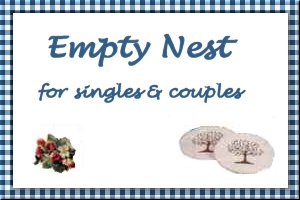 Fettuccine and Fresh Tomato Basil Sauce
Submitted by: Kathie Maclean-Racicot
2 large ripe tomatoes, peeled, seeded, and coarsely chopped
1 small bunch fresh basil, chopped
1 garlic clove, crushed.
1 tablespoon olive oil
salt to taste
pepper to taste
1/2 pound fettuccine, cooked, drained.
Combine tomato, garlic, basil, and olive oil with salt and pepper in a large bowl. Serve over hot pasta.

Two-Cheese Linguine
Submitted by: Cathie
1 package (7 ounces) linguine
2 tablespoons butter or margarine
3 tablespoons all-purpose flour
1/4 teaspoon salt
1/8 teaspoon pepper
1-1/2 cups milk
3/4 cups (6 ounces) shredded mozzarella cheese
1/4 cup shredded Parmesan cheese
2 tablespoons lemon juice
Cook linguine according to package directions. Meanwhile, in a skillet over low heat, melt butter. Stir in flour, salt and pepper until smooth. Gradually stir in milk. Bring to a boil; boil and stir for 2 minutes or until thickened. Remove from heat. Combine cheeses; toss with lemon juice. Add to the sauce; stir until cheese begins to melt. Drain linguine; add the cheese sauce and toss to coat. Yield: 2 servings.

Lasagna
Submitted by: Barbiel
3 ounces lasagna noodles
dash of oregano
1 - 8 ounce can or 1 cup of spaghetti sauce with meat
1/2 cup cottage cheese
3 ounces sliced mozzarella cheese
dash of salt
dash of pepper
Cook noodles according to package directions. Mix in small bowl, oregano, salt and pepper with spaghetti sauce. Alternate layers of noodles, cottage cheese, mozzarella cheese and sauce in small baking pan. Bake at 375°F for 30 minutes. Let stand for 10 minutes before serving. Serves 2.

To submit your favorite recipes to be included in the Garden of Friendship Recipe Book, please email them to Barbiel
Background graphics made especially for the Recipes Committee of the Garden of Friendship by Valatine