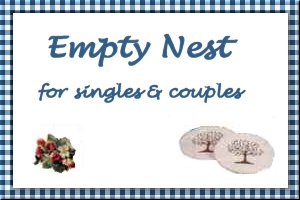 Pasta and Quick Chicken
Submitted by: Cricket
2 quarts water
1/2 teaspoon salt
4 ounces vermicelli, uncooked
3/4 cup frozen English peas
1/3 cup Italian salad dressing
1 cup chopped cooked chicken
1/4 teaspoon sweet red pepper flakes
2 tablespoons grated Parmesan cheese
Combine water and salt in a large saucepan; bring to a boil. Add vermicelli and peas. Return to a boil; reduce heat, and cook 10 minutes. Drain and set aside. Heat salad dressing in saucepan. Add chopped chicken and red pepper flakes and cook, stirring constantly, 2 minutes. Add reserved pasta mixture, and cook until thoroughly heated. Sprinkle with Parmesan cheese, tossing mixture well. Makes 2 servings.

Lemon-Pepper Pasta and Chicken
Submitted by: LisaW
8 ounces dried lemon-pepper linguine or penne pasta
1 cup shelled fresh or frozen baby peas
3 tablespoons olive oil
12 ounces skinless, boneless chicken breast halves
(cut into thin, bite-size strips)
1 medium red onion, cut into thin wedges
1 tablespoon snipped fresh marjoram
(or 1 teaspoon dried marjoram, crushed)
4 cloves garlic, sliced
1 tablespoon lemon juice
Prepare pasta according to package directions, adding peas during the last minute of cooking. Drain pasta mixture; toss with 1 tablespoon of the olive oil. Set aside. Meanwhile, in a large skillet heat remaining olive oil over medium heat. Cook chicken, onion, dried marjoram (if using), garlic, and 1/2 teaspoon salt in hot oil for 3 to 4 minutes or until chicken is no longer pink, stirring often. Stir in lemon juice. Cook and stir for 1 minute more, scraping up brown bits. Gently toss pasta with chicken mixture and fresh marjoram (if using). Serve immediately. Makes 2 servings.

Fettuccine with Shrimp Sauce
Submitted by: Lady Lynda
1/2 pound fettuccine noodles
1 and 1/2 cups chicken broth
1/4 cup dry White wine
1/2 teaspoon dried marjoram
1 pound shrimp, peeled and deveined
1 tablespoon cornstarch
1 cup milk
1/3 cup Swiss cheese, shredded
Combine chicken broth, wine and marjoram in a saucepan and bring to a boil. Add shrimp and cook for about a minute until shrimp starts to turn pink. Remove shrimp from pan and set aside. Bring broth mixture to a boil and allow it to boil for about 15 minutes until it is reduced to about one-half cup. Meanwhile cook fettuccine according to package directions. Combine cornstarch and milk, pour into broth mixture, and then stir until mixture becomes thick. Add cheese and stir until cheese melts. Add shrimp and heat through. Serve over cooked fettuccine noodles. Serves 2.

To submit your favorite recipes to be included in the Garden of Friendship Recipe Book, please email them to Barbiel
Background graphics made especially for the Recipes Committee of the Garden of Friendship by Valatine