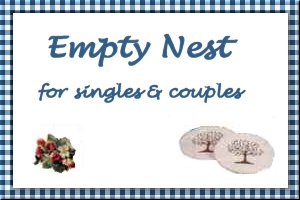 Fusilli with Shrimp, Tomatoes and Arugula
Submitted by: KatS
1/2 pound medium shrimps, cleaned and deveined
1 1/2 cups ripe, cherry tomatoes, halved
1 clove garlic, peeled and minced
1 1/2 tablespoons Olive oil
1/2 bunch fresh, washed arugula, torn into pieces
salt and pepper to taste
red pepper flakes
1/2 pound Fusilli pasta
While waiting for the pasta water to boil, heat the oil in a heavy frying pan and then add the shrimp. Cook for a couple of minutes, or just until the shrimp turn pink. Add the garlic, salt and pepper, red pepper flakes, and tomatoes, and mix well. Cook only for another minute or two and then turn off the heat. Cook the pasta until it is al dente , drain it reserving a small cup of the pasta water, and return the pasta to the pot. Add the shrimp mixture and arugula, and cook for a minute or two over high heat until it is piping hot and the arugula is wilted. If the mixture seems a little dry, add a spoonful of the pasta water. Serves 2.

Tomato Fennel Pasta for Two
Submitted by: PrayingBear
1 can of diced tomatoes
2 or so tablespoons of Olive oil
1 bulb of fennel, cut off the root part and the celery like stalks
1/2 1 lb bag of wide egg noodles
2 or so cloves of garlic
Slice the fennel from the bottom up into fairly thin slices toss with Olive oil and place onto a cookie sheet or baking pan and put into the preheated oven on broil. Keep an eye on the fennel and move it around occasionally untill all of the pieces are nice and soft but not yet brown. Meanwhile start a pot of salted water boiling. Open the can of tomatoes and put them into a deep skillet or sauce pan with the chopped garlic (if you want you can fry the garlic in a bit more oil before adding the tomatoes.. but don't let them brown!). When the fennel is done add it to the tomatoes and let it cook down (the juice will eventually disappear) when the tomatoes are nearly ready add the noodles to the boiling water and cook untill tender. Drain and toss with the tomatoes. Serve with a nice red wine, a little salad with Olive oil and vinegar, and a lovely italian bread from a bakery.
Note: The root part of fennel and the celery like stalks can be used on soups.

Stuffed Shells Marinara
Submitted by: PrayingBear
12 jumbo shells, uncooked
1 10-oz. packages frozen chopped spinach, thawed
1 cup low-fat Cottage cheese
1/8 cup grated onion
7-oz. jar spaghetti sauce
1/8 cup Parmesan cheese
Prepare pasta according to package directions. While pasta is cooking, cook spinach according to package directions. Drain spinach thoroughly in colander by pressing out extra liquid with a large spoon. Cool. In a medium bowl, combine spinach with cottage cheese and onion. When pasta is done, drain. Rinse with cold water and drain again. Preheat oven to 375°F. Spoon cheese mixture into shells. Place shells in a lightly oiled 9 x 13 x 2-inch baking dish. Pour spaghetti sauce over shells. Sprinkle with Parmesan cheese. Cover with foil. Bake 25 to 30 minutes or until hot. Serves 2.

To submit your favorite recipes to be included in the Garden of Friendship Recipe Book, please email them to Barbiel
Background graphics made especially for the Recipes Committee of the Garden of Friendship by Valatine